How did Sajal and Jerin die?
Deaths of two students remain a mystery even after 4 years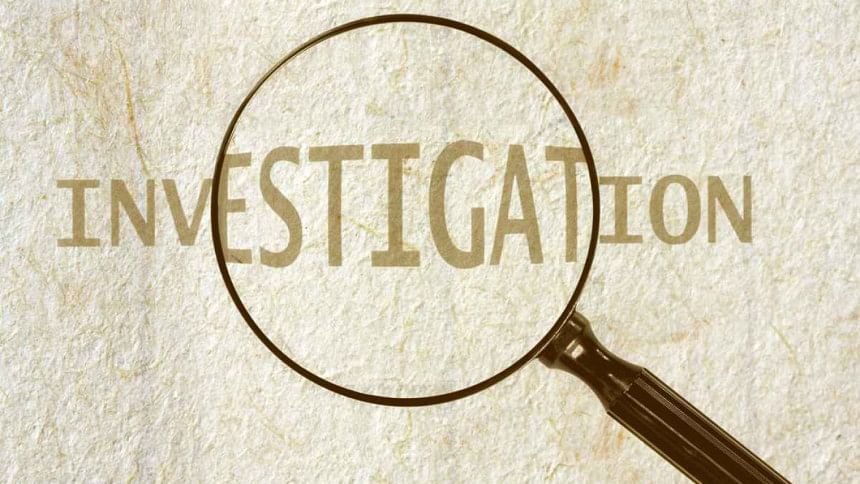 Justice delayed is justice denied. This phrase is a harsh reality for the families of Aminul Islam Sajal and Marium Chowdhury Jerin, two students whose deaths four years ago at a residential hotel in Dhaka's Farmgate, remain shrouded in mystery.
Despite investigations, no one has been held accountable for their deaths, leaving their families in a state of despair and hopelessness. They now question the efficacy of the criminal justice system in Bangladesh and the investigative agencies.
Aminul Islam Sajal, a student of Tejgaon College, and Marium Chowdhury Jerin, a student of World University, were found dead in a room at Hotel Samrat on April 2, 2019.
Their families have rejected two probe reports submitted by Tejgaon police and the Police Bureau of Investigation (PBI), which were presented to a Dhaka court.
"Initially, police told us they collected the CCTV footage of the movements of the deceased at the hotel, but later they denied this," said Mostak Ahammed Chowdhury, Jerin's father.
"Four years have passed, and yet we don't know how my daughter and her friend died."
"We have become tired of running to courts and various investigative agencies for justice. My wife and I are now very sick. I don't know where I'll get justice for my daughter's killing."
Sajal's father, Mosharrof Hossain, alleged that the police investigation was negligent, and important evidence was spoiled.
"We think some influential people were involved in this incident. Two students died, but no investigating agencies did anything to preserve the evidence," he said.
Their families have rejected two probe reports submitted by Tejgaon police and the Police Bureau of Investigation (PBI), which were presented to a Dhaka court.
ANOMALIES IN THE CASE
There are several anomalies surrounding the case.
On the day the bodies were recovered, both families went to Tejgaon Police Station to file a murder case. But the police registered an unnatural death case instead.
Frustrated with Tejgaon police, Jerin's father Mostak Ahammed Chowdhury filed a murder case with a Dhaka court on May 14, 2019, accusing Samrat Hotel owner Jasim Uddin Chowdhury Kochi, its manager Rasel Ahmed Suman Liton, supervisor Ahammad Hossain and some unnamed persons. Twelve days later, the court directed the officer-in-charge of Tejgaon Police Station to submit a report after investigating the case.
On August 31, 2020, Shariful Islam, a sub-inspector of Tejgaon Police Station, prepared a probe report and filed it with the Chief Metropolitan Magistrate's Court, saying they did not find any evidence against anyone involved in the victims' deaths.
Almost five months later, PBI was given the charge of the investigation after the complainant Mostak filed a no-confidence petition with the court against the probe report.
In November 2021, PBI sub-inspector Nuruzzaman submitted a report before the court, saying the charge against the accused was not found true.
Later, Mostak also filed another no-confidence petition with the court against the PBI probe report. Then the court assigned the Criminal Investigation Department (CID) as the investigating agency.
In their reports, investigators Shariful Islam and Nuruzzaman stated that both victims died due to excessive consumption of drugs.
Meanwhile, the autopsy report prepared by the forensic department at Shaheed Suhrawardy Medical College in April 2019 states, "Sajal's death was due to asphyxia caused by the toxicity produced by drug Dapoxetine, while no cause of Jerin's death could be ascertained. No sign of forceful sexual intercourse was found on her body."
However, Dr Shahidullah Shikder, professor of the dermatology and venereology department at Bangabandhu Sheikh Mujib Medical University, said, "There is no precedent of anyone dying after consumption of Dapoxetine."
Contacted, sub-inspector Shariful Islam said about the probe report, "I don't remember everything as it was so long ago."
"There was no CCTV footage inside the hotel. We got one footage outside, which was insufficient to identify them [victims]," he added.
Sub-inspector Nuruzzaman echoed the same.
According to the hotel authorities, a day before the incident, the students booked room no 808, claiming to be married.
The next morning, the hotel staff repeatedly knocked on the door to find out about their check-out time, but they did not respond.
Around 12:30pm, after being informed by the hotel staff, police broke open the door and found Sajal's body on the bed, and Jerin's on the floor, they added.
CID inspector Shahinur Islam is now investigating the case.
"We are continuing the investigation. We hope we can submit a probe report soon," he told these correspondents.