Heyday for dried fish business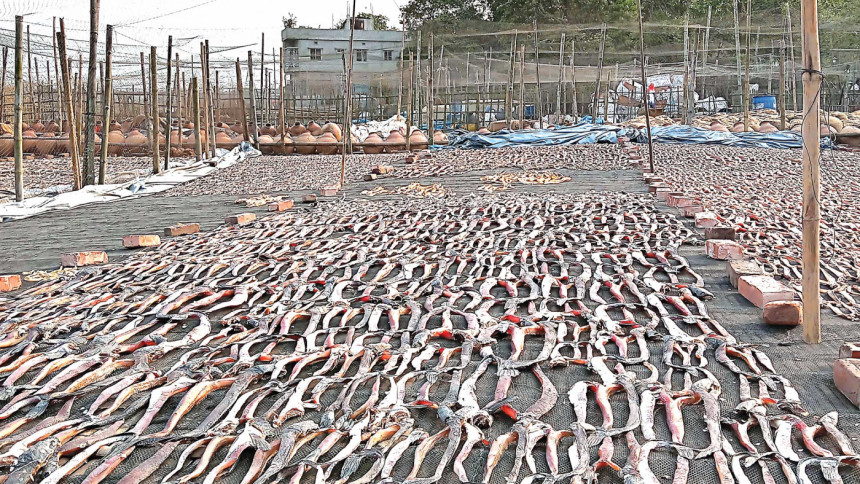 The business centering dried fish, which has a huge demand in the domestic market, has created wide employment opportunities for hundreds of families in haor areas of Kishoreganj.
There is a bright prospect of producing a huge amount of dried fish in the haor areas of the district, which will make a good number of poor haor people solvent, said Horimon Chandra Das of Daspara area in Kuliarcahr upazila of Kishoreganj.
He also said it is their ancestral profession and some 600 families are still involved with the profession in Kuliarchar.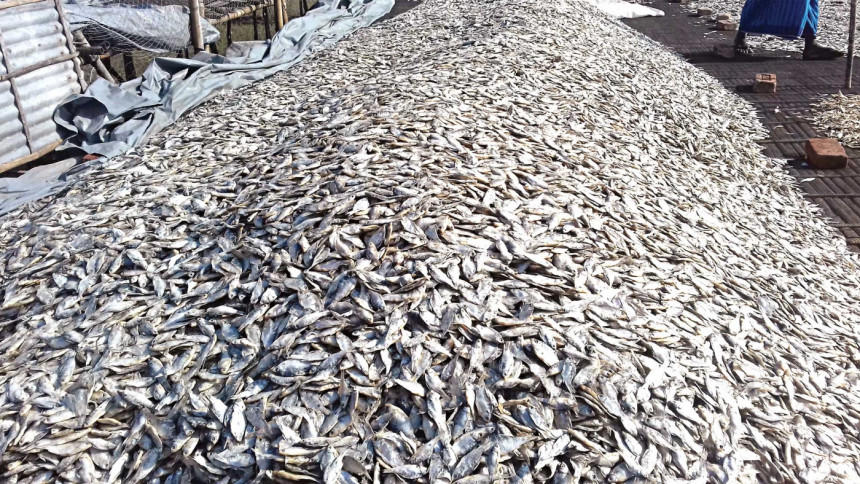 As the price of dried fish has increased in recent years, the profit from this business has also soared, said 52-year-old Horimon, involved with this ancestral profession since his boyhood.
The demand for dried fish, especially the country varieties captured from the open water bodies, is ever-increasing, said Md Ruhul Amin, a field officer of upazila fisheries office in Kuliarchar of Kishoreganj.
To dry fish traditionally, the fishermen set up bamboo platforms in the open fields or spread the fish on mats on the ground.
A large number of women are also involved in cutting and cleaning fish and they earn Tk 50,000 to Tk 60,000 per season (six months), said Samir Das, another businessman.
The flourish of this business will surely create job opportunities for many poor haor people when other types of works remain elusive for them, said Md Ziaul Haque Jewel, senior upazila fisheries officer in Kuliarchar, a hub of dry fishes.
The dried fish producers said the price is good this year and they are eying a good profit this season, he said.
A 30-year-old Protima Rani Das who works at a shed in Kuliarcahr's Daspara said she earns Tk 50,000 in every season.
Contacted, Ripon Chandra Pal, district fisheries officer (DFO) in Kishoreganj, said around 1500 tonnes of dried fishes are produced in Kishoreganj per year.
The DFO also said that Kuliarchar, Nikli, Bajitpur, Itna, Mithamoin, Astadhar, Tarail, Karimganj and Bajitpur are some of the leading areas in producing dried fishes.
Around 50,000 people are involved directly and indirectly with the dried fish business in the district, added the official.
The dried fishes are supplied to different parts of the country including Dhaka. The dried fish business has also bright export potential and this delicacy is hugely popular in neighbouring India and many other European countries.
Dry fishes are being exported to the Indian states of Mizoram, Assam, Tripura and Kolkata through Akhaura border in Brahmanbaria, said the DFO.
He also said that for producing quality dried fishes, they have been training farmers in Itna, Mithamoin, Kuliarcahr and Katiadi upazila.
The DFO also informed that some 82,000 tonnes of fish are produced in the district and over 30,000 farmers are involved in this sector. The surplus production is supplied to other areas of the country.