Hajj package gets costlier
Fees hiked by Tk 1 lakh from Tk 3.62 lakh in 2020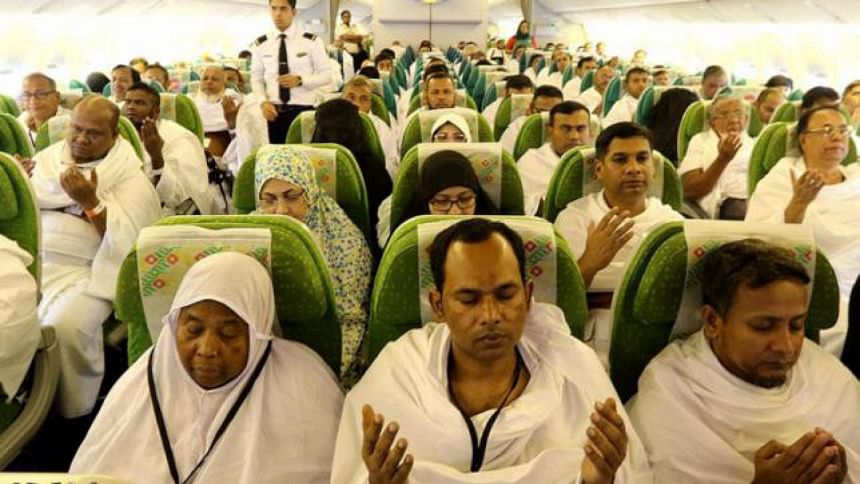 To perform hajj under government management this year, pilgrims will have to spend at least Tk 4,62,150, about Tk 1 lakh more than it cost in 2020.
A bit more expensive arrangement will take the cost to Tk 5,27,340 lakh under the government management.
State Minister for Religious Affairs Minister Faridul Haque Khan yesterday announced the two hajj packages after a meeting of the Executive Committee on Hajj Management.
Pilgrims under the more expensive arrangement under package-1 will get accommodation within 1km of Masjid ul Haram while those under package-2 will get accommodation within 1.5km, added the state minister.
The minimum cost for hajj under private management would be Tk 4,56,530, the religious affairs ministry proposed. Costs for most arrangements have been raised by Tk 1 lakh since 2020.
The state minister said the costs increased because of the exchange rate of Saudi Riyal, 15 percent VAT on all services, and the introduction of taxes by the Saudi authorities.
The junior minister said the private hajj agencies could announce multiple packages.
The state minister yesterday said the packages include airfare, rent in Saudi Arabia, service charges, Muallem fees, food and other expenses.
Every pilgrim under private and public hajj management will have to pay an additional Tk 19,683 for a Qurbani coupon from the Islamic Development Bank in Saudi Arabia.
The Hajj Agencies Association of Bangladesh said it would formally announce the hajj packages at a press conference today.
According to an agreement between Bangladesh and Saudi Arabia, 57,585 Bangladeshis will be able to perform hajj this year, likely to be held on July 8, Faridul said.
Of the total pilgrims, only 4,000 will perform hajj under government management, according to the state minister.
The state minister said a hajj agency could send a minimum of 100 and a maximum of 300 pilgrims.
Due to the pandemic, the largest annual Muslim congregation was held on a limited scale in the last two years.
According to the Saudi Ministry of Hajj and Umrah, pilgrims must be under the age of 65 and be fully inoculated against coronavirus. They must also test negative in a PCR test not more than 72 hours before leaving for Saudi.
Flights carrying the pilgrims are likely to launch from May 31, the state minister for civil aviation said recently.