Govt report to UN: 'Our words neither heeded nor believed'
Say families of enforced disappearance victims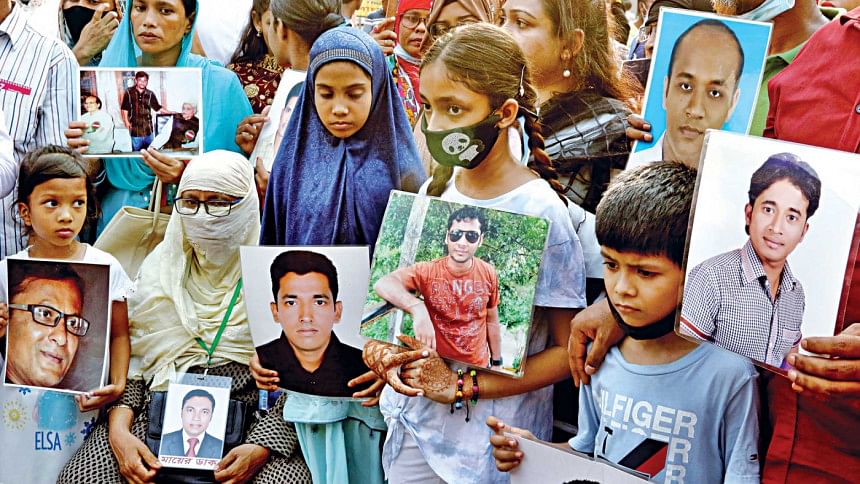 Families of the victims of enforced disappearance decried the government's report to the Working Group on Enforced Disappearance or Involuntary Disappearances.
Families of 52 forcibly disappeared victims stood in front of the National Museum yesterday afternoon demanding answers.
For the first time in 26 years, the government had responded to the Human Rights Council's working group, a United Nations body, submitting to them information about forcibly disappeared people.
The list of outstanding cases of enforced disappearance recorded with the organisation is at least 76 and the working group had rejected government explanations for 66 of them terming them "insufficient", according to its latest report.
For preparing the report for the UN, law enforcers visited the families of the enforced disappearance victims to collect information.
Some of the families said this was the first time they had been contacted by law enforcers in years.
Standing in front of the museum yesterday, some families spoke about how they were gaslighted during the "investigation". Their words were neither heeded nor believed, they said.
Abdul Kuddus's family, for example, was told that they were hiding him because there were cases against him.
Kuddus was picked up on March 30, 2017, from Rajshahi's Bagmara. Kuddus was then an independent candidate for the local union parishad election.
"On February 9, law enforcers called Kuddus's wife and accused her of hiding him. They said that Kuddus was in hiding and that we were helping him," said one of his family members.
Emon, the son of Mohammed Omar Faroque, narrated how law enforcers got in touch with the family four or five months ago and told them that their father was hiding abroad.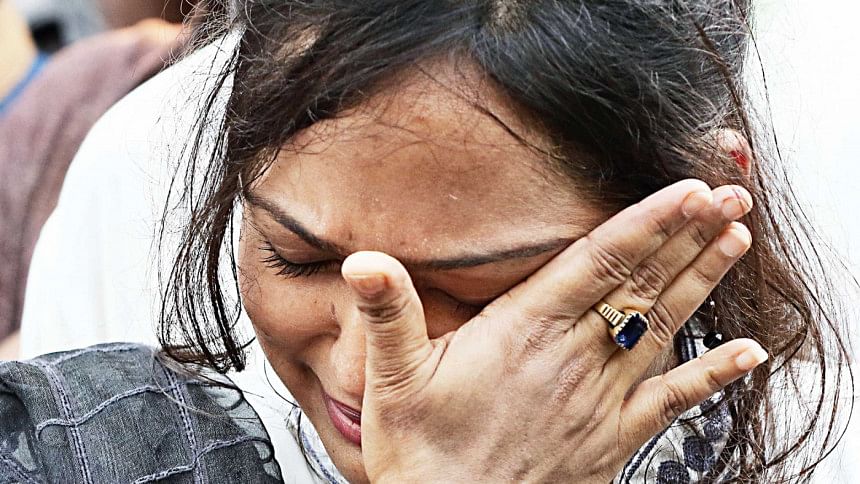 "He was seen being picked up, and yet they say that he is in hiding," said Emon.
Faroque's case was one of the two transmitted to the government under "urgent procedure" of the UN Working Group. Faroque was allegedly picked up on February 5, 2014, by eight Rab members and the Detective Branch of Police during a raid on his relative's house in Chattogram, according to the UN body's report.
SM Moazzem Hossain Topu, 28, a former president of ward-22 unit of BCL, was picked up by "plainclothes detectives" from a friend's flat on January 26, 2016.
Saleha Begum, the mother of Topu, said she was visited by law enforcers a fortnight ago and asked to withdraw the names of the people she accused when filing a case for her son going missing.
"I had named eight people. Law enforcers came to my house and told me that I need to go to the court and withdraw those names. They said that the people I named are not involved in the case. I refused because they could not tell me who the culprits are or if they had identified who picked up Topu," said Saleha.
On March 15, the United Nations called on the government to ensure that human rights defenders and the families of victims of enforced disappearance do not face any harassment from law enforcement agencies.
"Immediately cease reprisals against human rights defenders and relatives of forcibly disappeared persons for their activism and co-operation with international human rights bodies and UN mechanisms," it had said in a statement
The gathering was organised by Maayer Daak, a platform of families of the forcibly disappeared, in commemoration of the International Week of the Disappeared.