Finally, the wait is over
Amar Ekushey Boi Mela kicks off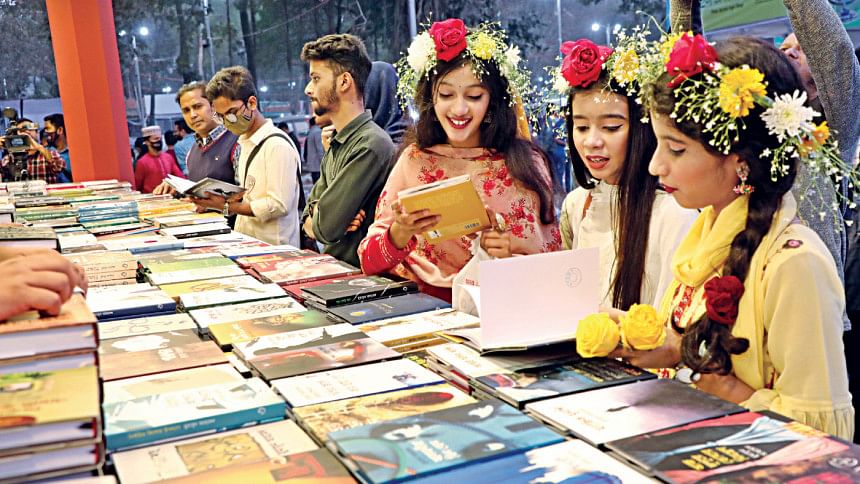 For the first time in three years, February 1 marked the opening day of the Amar Ekushey Boi Mela, commemorating the memories of the Language Movement martyrs. The fair will continue till February 28.
Prime Minister Sheikh Hasina inaugurated the book fair in person after three years, with the apt theme of "Read books and build Bangabandhu's Bangladesh".
After the inauguration ceremony, the doors of Boi Mela were opened for the public at 5:30pm, when people of all ages and all walks of life gathered at the Suhrawardy Udyan premises, where the fair is being held.
Mahbub Jamil Pulak, who visited the fair on its opening day, said, "I'm an avid music lover and so, I'm looking for books related to music. I bought Joy Shariar's 'Rupali Guitar', written about rock legend Ayub Bachchu and 'Niloy Da' about celebrated musician Niloy Das, edited by Milu Aman and Haque Faruk."
"I'm happy to be back at the fair without any restrictions. I will come back again to purchase books by my favourite writers," he added.
Another visitor Jannatul Nayem Annanya, who came to the fair with her friends, said, "This is the first time that I'm visiting the fair on its opening day. The premises look vibrant with all the new books."
Publishers, on the other hand, are expecting some good sales as readers can now visit the fair without any restrictions in place.
"Our book fair business has been in a bad shape for the last two years. We hope to recover from the previous years' losses this year," Anyaprokash CEO Mazharul Islam told The Daily Star.
"We are also trying hard to keep the price in check amid the increasing costs of papers and publishing materials," he added.
However, the opening day saw the fair as an under-prepared one. Over 50 stalls were not open on the first day. Many stalls had garbage and setting materials such as wood and plastic scattered all over the premises.
The actual number of books was not announced by Bangla Academy's information centre. Among the many books that have been released on the opening day were -- Sheikh Hasina's "Sheikh Fazilatun Nesa, Amar Maa'" (Charulipi Prokashon), Harishankar Jaldas's "Karna" (Kathaprokash), Akbar Ali Khan's "Mujibnagar Sarker o Bortoman Bangladesh", Anisul Hoque's "Parijater Jonno Valobasha" (Prothoma), and Mauli Azad's 'Egaler Chokh" (Agami).