Experiencing iftar in Old Dhaka other than Chawk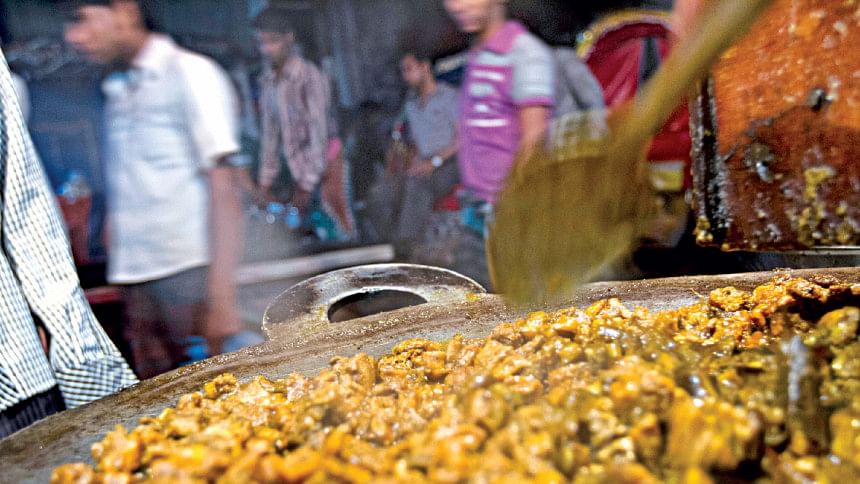 The first day's iftar menu is an elaborate one in almost every household. Even when iftar preparation goes on in full swing at home, your mind oscillates between iftar bazaars, restaurant offers, and home-made dishes.
For many, getting food from Chawkbazar is a Ramadan family ritual. Old Dhaka is always bustling with food thrills; it has a rich unknown gem in almost every nook and cranny. However, many argue that the iftar hub of Chawk is highly overrated. Rather, the food available in various eateries of Dholaikhal, Dhoopkhola, Narinda, Laxmibazar, Nazirabazar and Nazimuddin Road is also worth a shot.
"During Ramadan, people who do not have a shop will open one to sell iftar. Iftar throughout the old town is a grand affair, and there is a lot of variation in places other than Chawk," says Abed Ali Khan, a food connoisseur and principal of Old Dhaka International School.
You can start with the classic Beauty Lassi and Lemonade. The refreshing drinks available there can quench thirst and be gulped at one go after you break your fast. A tall glass of almond-pistachio milk shake or badam shorbot with crushed ice, or a goblet of salty whey or matta of Royal Restaurant in Lalbagh comes to mind.
The roller ice-cream in Laxmibazar is also a notable offering. Shakib, the owner, took inspiration from Delhi street food and tried to introduce it in Dhaka. A plate of this soft ice cream, made from a blend of fruit juices rolled over ice in a roller and sprinkled with nuts, is sweet enough to be your light iftar.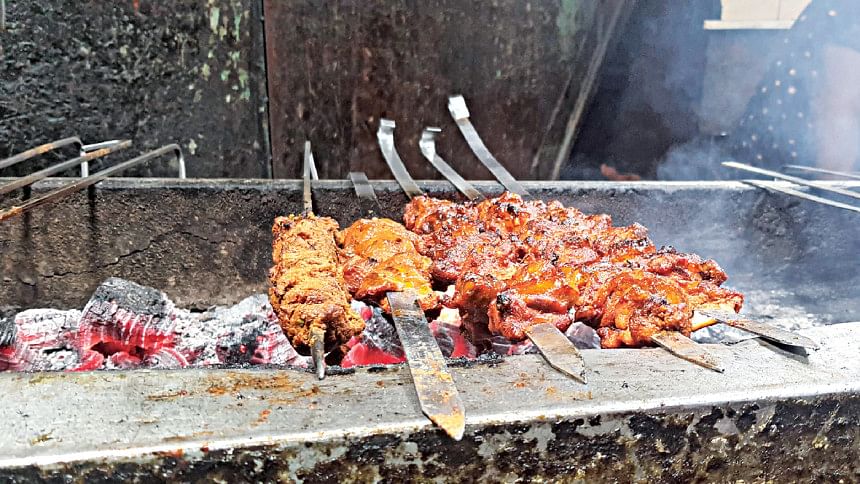 The options for the main course are of course aplenty.
There is a new favourite to Old Dhaka's palate — nihari from Babubazar Mazar Lane. A nihari is generally cooked as a stew with shanks and marrow; in this dish, a whole mutton head is slow cooked and it is one rich stew to chew on.
"The kachchi market is in high demand during Ramadan, and places like Kolkata Kacchi, Nawab's, Sultan's Dine, which were not in the scene 10 years ago, will be buzzing with special orders.
"You are spoilt for choice when it comes to kababs: shutli kabab, boti kabab, beef sheekh, and chicken tikkas are to be eaten with soft naans or chapati, and rumali rotis. The special ghee-fried thin and crunchy jilapi of Ananda Confectionery is to die for," says Abed.
So, think beyond the usual. If you simply take a rickshaw ride and visit the hidden gems of Old Dhaka food scene, you will have a far better iftar experience.