Exercising Away Trouble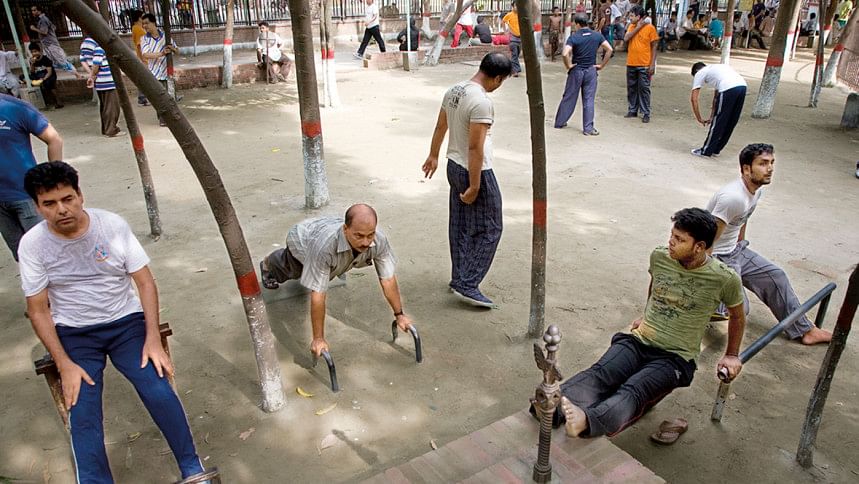 Many people exercise for fitness and good looks but I exercise to stay out of trouble.
Over the years parts of my body have caused me trouble for various reasons.
For example, consider my camera and lens. Bird photography requires a long telephoto lens because birds fly away if one comes too close. My camera and lens together weigh fourteen pounds. When out birding, I have to walk long distances carrying this camera. Sometimes I have to climb a hill or two.
When I find the bird it is likely to be positioned above me. So I have to point this camera upwards while looking through it. And because they don't understand the notion of posing, I hold the camera in this position until a good pose when I click the shutter. This may take a few seconds or several minutes. My biceps protest the camera's weight and sometimes give up before the right moment.
So my upper arms and my shoulders are often in trouble.
Then there is my running habit. I will be the first to admit that I am a really slow runner, but I have done it for four decades and accumulated considerable miles of pounding on my feet, legs, knees and hips. At one time or another running has caused pain in parts of my legs starting at the toes and climbing all the way to my hips. Running keeps my lower body teetering on the brink of trouble.
Trouble came from other sources as well.
Four years ago I had a nasty bout of chikunguniya. For many weeks, I remember waking up every morning and wondering what part of my body will hurt on this day. Eventually the pain subsided except for one place. It wreaked havoc on my left knee and I had to limp for several months.
Chikunguniya also weakened my sense of balance. I could not easily walk on ails of paddyfields or climb up narrow trails in the forest. Even putting on a pair of trousers became a challenge.
Another time, for no apparent reason, I had severe lower back pain. Other sufferers will agree that this kind of pain has a mind of its own and does not yield easily to a doctor's diagnostic procedures.
I am lucky that so far I have managed my way out of these troubles without serious medical intervention (with one exception – a torn meniscus two decades ago.) With every troublesome episode, a doctor or a physiotherapist showed me a set of exercises to recover from it. After some weeks of exercise, the pain usually left me. But I held on to the exercise and continued it like medicine. My balance is much better with proper exercises.
Over the years I have accumulated two dozen such exercises. Doing them regularly keeps me out of trouble.
I have no illusions. At some point I will run into trouble that cannot be fixed by exercise. Until then I am grateful for knowing these exercises and try to make the best of them. For me, the exercises of physiotherapy are nothing short of miraculous.
............................................................
facebook.com/ikabirphotographs or follow "ihtishamkabir" on Instagram.