Don't harass UAE-bound workers with tourist visas at Dhaka airport: Parliamentary body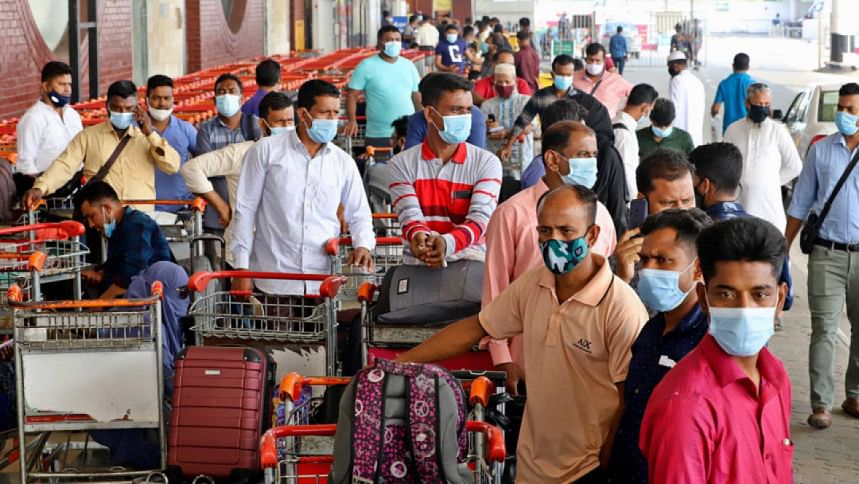 A parliamentary body today asked all authorities concerned not to harass UAE-bound migrant workers having tourist visas at the Dhaka airport.
The Parliamentary Standing Committee on the Ministry of Expatriate Welfare and Overseas Employment came up with the recommendations at a meeting at the Jatiya Sangsad Bhaban with Jatiya Party MP Anisul Islam Mahmud in the chair.
The parliamentary watchdog also asked the department of immigration and passports to make sure the workers get their e-passports without any harassment.
Different media have reported that the UAE-bound migrant workers having visit visas are subjected to harassment by the immigration authorities regularly at the Hazrat Shahjalal International Airport.
Recently, several migrant workers told The Daily Star that the immigration officials at the HSIA barred them from travelling to the UAE although they have valid documents.
Emerging from the meeting, Anisul told The Daily Star that the committee has asked the ministry to ensure that the UAE-abound migrant workers are not harassed at the airport.
"Those who have a valid visit visa and if there is no objection from the government about them (migrant workers), then they cannot be harassed and barred from going to their respective destination," he said.
"Why would the immigration authorities stop someone even if they have a valid passport and visa. It must be stopped," he added.
An assistant superintendent of police of immigration denied making any comment on the recommendation of the parliamentary body, when asked.
In today's meeting, the parliamentary standing committee recommended the introduction of insurance for expatriate workers.
"If they have life insurance, they will get money after death. If you get into an accident, you will get benefits. We have asked the ministry to look into the matter. The lives of expatriate workers must be protected," Anisul also said.
The parliamentary body also recommended continuing regular discussions with Biman to reduce airfare for expatriate workers.