Dealing with hurdle for 3 decades
Villagers use a bamboo bridge that they built themselves on self-help basis in every two to three years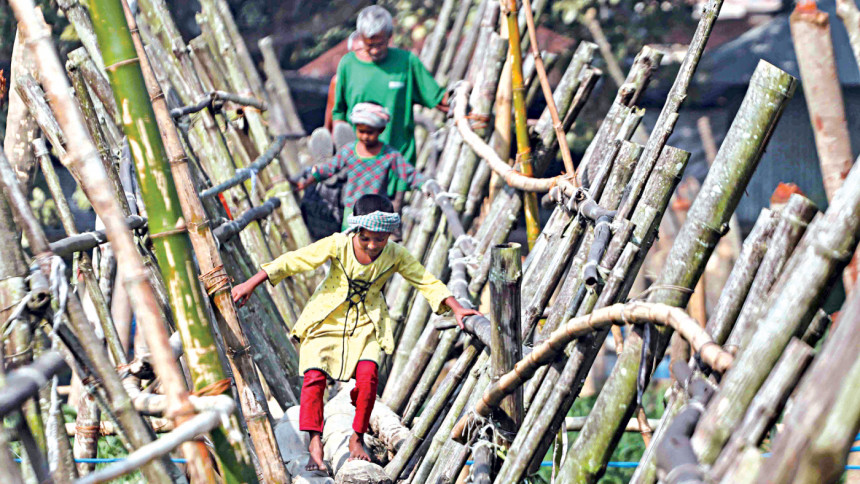 Several thousand residents of Pashchim Baniary village under Matibhanga union in Pirojpur's Nazirpur upazila have kept their communication alive by crossing the nearly dead Baleshwar river using a bamboo bridge that the villagers themselves first built over three decades ago.
Locals said although nearly five thousand people including children and students of different institutions use the 300-metre-long bridge daily, no step has been taken to build a permanent bridge there.
Villagers voluntarily render their labour to build the makeshift bridge that connects Pashchim Baniary village and Bawalipara village in Chitalmari upazila of Bagerhat.
"We using the bamboo bridge to cross the wide dead river for over 30 years," one of the villagers Robin Baroi said.
After collecting bamboo and wooden logs from villagers they voluntarily build the bridge on self-help basis in every two to three years, he said, adding that this year they were planning to make a new bridge reducing the length of the bridge.
As it is quite difficult to make the 300-metre bridge, they are reducing the length of the bridge by filling earth on either side of the dead river, another local Profulla Ojha said.
Villagers said most of them have to use the bamboo bridge to go to Khasherhat in Chitalmari upazila for different purposes as it is much closer than Nazipur upazila headquarters, he said.
 "Huge quantity of seasonal vegetables are grown here as most of the residents of our village depend on agriculture," another villager Gourango Roy said, adding that they face serious difficulties while carrying their produces to Chitalmari using the shaky bridge.
The situation turns more worsen during the rainy season as the approach roads also get muddy and slippery then, he said.
Moreover, hundreds of students of the locality are compel to use the makeshift bridge every day amid risk of accidents as almost all the secondary level educational institutions are located on the other side of the river.
Local union parishad (UP) member Kamalesh Mondal said, "We have urged the authorities concerned on several occasions to build a permanent bridge over the river, but they never cared about our sufferings as the bridge is located on the border line of two neighbouring districts."
When asked, Matibhanga UP Chairman Jahidul Islam Bilu said Fisheries and Livestock Minister SM Rezaul Karim, also lawmaker from Pirojpur-1 constituency, gave a demi official (DO) letter to the chief engineer of Local Government Engineering Department (LGED) for constructing a bridge on Reinforce Cement Concrete (RCC) girder in place of the makeshift one.