Civil administration: Top-Heavy 'discriminatory'
Hundreds of admin officials promoted beyond approved posts; officials from non-admin cadres say they're deprived
Bangladesh's civil bureaucracy is growing fatter and fatter at the top as its lower tiers remain remarkably slim, creating an imbalance, affecting performance and fomenting frustration among non-admin cadre officials.
The imbalance in some cases is so great that the number of officials holding top positions is more than three times the approved posts, while thousands of posts exist only on paper.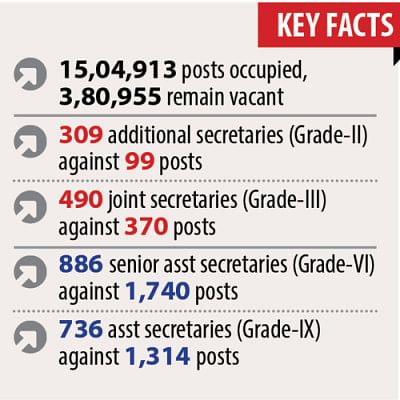 For example, there are now 309 additional secretaries (Grade 2) against 99 posts, with 210 supernumerary or in-situ promotions in the position. In contrast, more than one in every five posts of Class 1 officers lay vacant, according to public administration ministry data.  
In-situ officials continue to hold the same office and perform the same duties as before, but hold higher positions and get higher pay, raising questions about the promotion at the expense of taxpayers' money.
Among all the 26 cadres, the administration cadre has long been enjoying such promotion. Officials from other cadres termed it discriminatory.
In November 2018, officials from 24th and 25th batch of police cadre got such promotion, a rarity in police administration.   
Ideally, the structure of a functional bureaucracy should look like a pyramid – heavy at the bottom, light at the top.
Experts and former bureaucrats said the present shape of the country's bureaucracy was not structurally sound. According to them, it hampers productivity and harmony among different tiers of officials.
Latest government "Statistics of Civil Officers and Staff-2020" released on June 15 show 490 officials hold joint secretary (Grade 3) post against 370 approved posts. Besides, against 135 posts, 165 officers hold Grade 4 (selection grade) -- which falls between joint secretary and deputy secretary (Grade 5). 
In contrast, the rest six of the nine tiers face manpower shortages. The situation is most severe in Grade 6 (senior assistant secretary) and Grade 9 (assistant secretary). There are 886 senior assistant secretaries against 1,740 posts while there are 736 assistant secretaries against 1,314 posts.  
Against this backdrop, the government has moved to promote another batch of joint secretaries to the post of additional secretary, according to a recent report by Bangla daily Samakal.
"This [such in-situ promotion] is not good for the administration. Promotion should be consistent with the sanctioned posts," said former cabinet secretary Ali Imam Majumder.
According to experts, there are no specific guidelines for in-situ promotion, creating scope for "pick and choose" following intense lobbying and political leniency.
The taxpayers have to spend more for these officials, although they are getting the same service from them, they said.
A recent survey by Transparency International Bangladesh found that the current state of the civil bureaucracy creates a series of problems.
TIB Executive Director Iftekharuzzaman said the top-heavy structure was "starkly opposite" compared with the organogram of any functional organisation.
"This organisational structure creates obstacles in promoting administrative skills and efficiency. It also creates hindrance to the promotion of the officials at the lower tiers and increases backlog in the decision-making process," he told The Daily Star.
WHY SUCH PROMOTION?
The term "in-situ" was not much popular in Bangladesh's civil administration before 2006. In the last 10 years, however, such promotions are all too common.
Officials from different non-admin cadre services said they had to wait for years for promotion due to unavailability of posts.
"But things are different in case of the administration cadre," one official said, requesting anonymity.
In an unprecedented move in November 2018, the government promoted 230 additional superintendents of police to the post of SP in-situ amid police demand for promotion.
Several police officials said that was the first – and since then the last – in situ promotion in police cadre.
According to one admin official, there are too few posts above deputy secretary, which makes the competition within the admin cadre intense. Also, promotion on the basis of batches has been a norm in recent years.
"This means, if the number of officials in a particular batch is high, the number of promotions also gets high. Hence the high number of supernumerary promotions," he said, wishing anonymity.
'ADVERSE IMPACT'
Before 2006, there was a practice of in-situ promotion anticipating future vacancy, but the number used to be very small, Ali Imam Majumder said recently.
Towards the end of its tenure, the last BNP-led government promoted 200 to 300 officers to deputy secretary post. The promoted officials however did not get any new posting, he added.
The subsequent caretaker government found that many deputy secretary-level officers did not have any work although there was a dearth of assistant secretaries and senior assistant secretaries.
A supernumerary promotion system was then introduced to make the deputy secretaries more productive. However, the caretaker administration had also decided to abolish such posts once the need was over.
After taking office in 2009, the Awami League-led government started giving "rampant promotion," which is inconsistent with the approved posts, the former cabinet secretary said.
He also cited examples of top-heavy admin structure in public universities and the police force.
He said, "Supernumerary promotions are going on in the police too." Besides, public universities, even though not part of civil service, have a top heavy structure, he added.
When asked about the impact of the admin cadre enjoying disproportionate benefits in terms of promotion, Iftekharuzzaman said, "It puts an adverse impact on the inter-cadre relationship."
"Deprived officers [in other cadres] find it discriminatory. It affects their performance," he said recently.
On July 29, this paper asked KM Ali Azam, senior secretary of the public administration ministry, about the incredible number of in situ promotion in some grades. He said he needed to go through the data first, and asked this correspondent to call him on August 1.
Repeated attempts to reach him via phone and texts were unsuccessful.
The Daily Star yesterday tried to reach State Minister for Public Administration Farhad Hossain but he could not be contacted.