Char Bijoy riddled with dead fish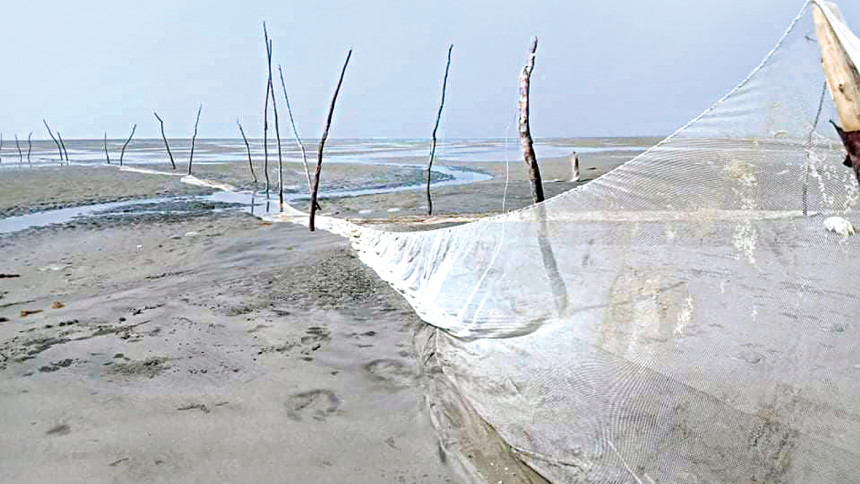 A new shoal covering an area of ​​about 5,000 acres has sprung up in the deep Bay of Bengal, about 30-km south of Kuakata.
Tourists have dubbed it "Char Bijoy", after discovering it in the month of December in 2017. Due to the free movement of migrant birds and red crabs, the shoal has started attracting seasonal tourists, who mostly come from Kuakata on trawlers and speed boats.
Patuakahali Forest Department has already started planting 1.5 lakh trees in the shoal. Thousands of tourists have visited the shoal this season to enjoy the natural beauty and they are still coming.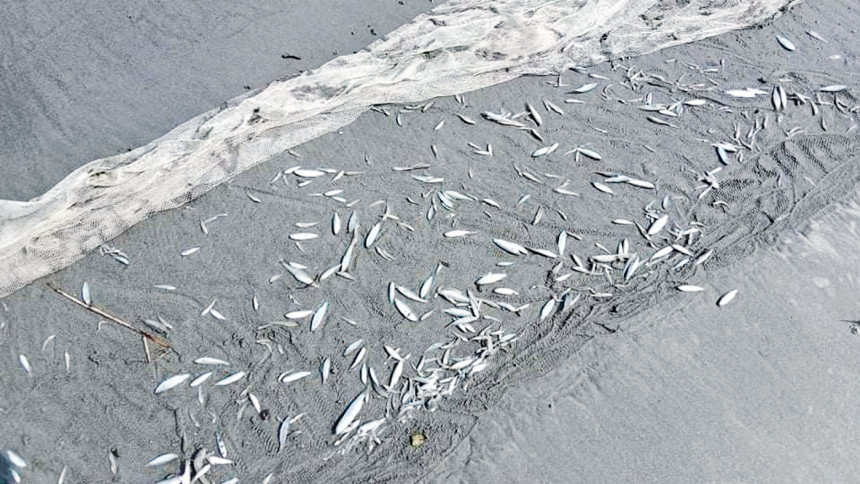 Although it remains submerged in the rainy season, it resurfaced in the winter with an area of ​​5,000 acres.
Fishermen stay here and in the vicinity during the winter season to catch fish including hilsa. They make temporary shelters for fishing and drying up the fish. Due to the less movement of people, guest birds flock here in winter. Host of red crabs and guest birds are adding a new dimension to the beauty of the shoal.
Some seasonal tourists come here from Kuakata in hired trawlers or speed boats to enjoy the serenity of the pristine shoal.
Arifur Rahman, a tourist, said more than a hundred seasonal fishermen were seen fishing and drying up fish there. During low tide, they bury small nets in the sand, and at certain distances, they place bamboo twigs next to the nets. When the water recedes during low tide, large and small fish of various species get caught in the nets. The big fish are collected by the fishermen but the small fish are left there; they die.
For this practice, various species of fish are being killed prematurely, he added.
He said, "I have seen innumerable small dead fish in several nets while roaming in the char."
Authorities need to take immediate action to stop the killing of such fish, he added.
Contacted, Patuakhali Divisional Forest Officer Abdullah Al Mamun said, they have already started planting 1.5 lakh trees in the char this year. This will make the char permanent and the birds will be able to take shelter.
District Fisheries Officer Mollah Edadullah said, fishermen were not allowed to fish there and proper surveillance could not be carried out as the char was isolated and there was no water vessel to patrol there.
The matter of killing small fish was not known but action will be taken in this regard, he said.