'Bangladesh an important partner in diplomacy'
Says EU ambassador at event marking 50yrs of Bangladesh, Germany relationship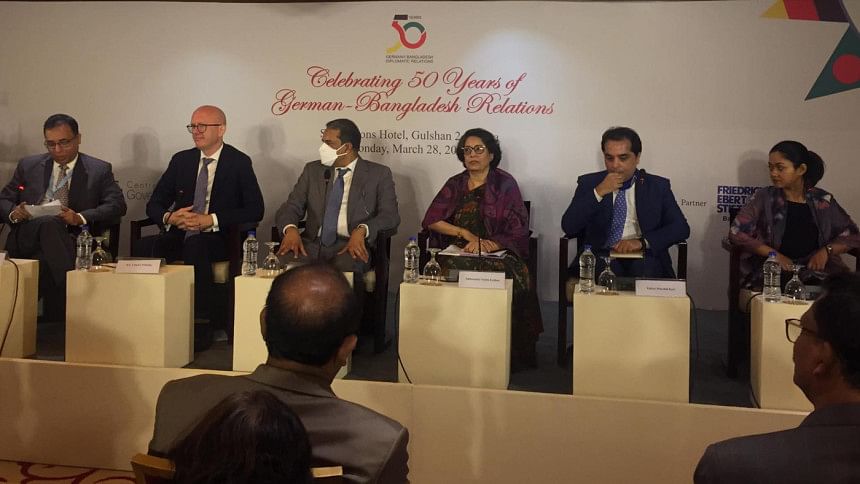 The European Union considers Bangladesh a very important partner in the regional and global diplomatic landscape, as the country has been able to demonstrate its economic and diplomatic strengths in recent years, EU Ambassador to Bangladesh Charles Whiteley said yesterday.
The ambassador made the remarks while addressing a discussion on the 50 years of Bangladesh-Germany relationship at a city hotel, organised jointly by the Centre for Governance Studies (CGS) and Friedrich Ebert Stiftung (FES) Bangladesh.
He also said the European Investment Bank is looking to provide sizable low-cost loans to Bangladesh for development financing.
"The EU and Bangladesh are working on how to smoothen the transition to GSP Plus after the country graduates from its LDC status," said Whitley.
He also mentioned that European businesses are showing more interest in Bangladesh due to its significant social and economic growth.
German Ambassador to Bangladesh Achim Tröster said Germany is offering a specialised climate development partnership to Bangladesh.
"Bangladesh is one of the 10 countries being offered the same. The partnership will undertake joint activities to reduce climate vulnerability," he added.
Foreign Ministry Director-General (West Europe and EU) Faiyaz Murshid Kazi said Bangladesh is looking forward to an enhanced strategic relationship with the EU.
Former Foreign Secretary Touhid Hossain in his keynote speech said, "Bangladesh-Germany relationship has moved from aid to trade, generally emphasising on core values of democracy, human rights and governance."
"As Bangladesh is graduating from its LDC status, it needs skilled human resources now more than ever. Germany -- with its technical and vocational education -- can come forward to help improve this kind of education in Bangladesh," he added.
Touhid also suggested that Germany help Bangladesh with the Rohingya crisis, technology transfer in industries and climate change.
Parliamentary standing committee chairperson on foreign ministry Col Faruk Khan (retd); former ambassador Nasim Ferdous; Bangladesh-German Chamber of Commerce and Industries Committee Chair Abdul Muktadir; CGS Chairman Dr Manjur A Chowdhury; FES Bangladesh Representative Felix Kolhitz; and filmmaker Rubaiyat Hossain also spoke at the discussion, moderated by CGS Executive Director Zillur Rahman.