Govt initiatives kept economy vibrant: PM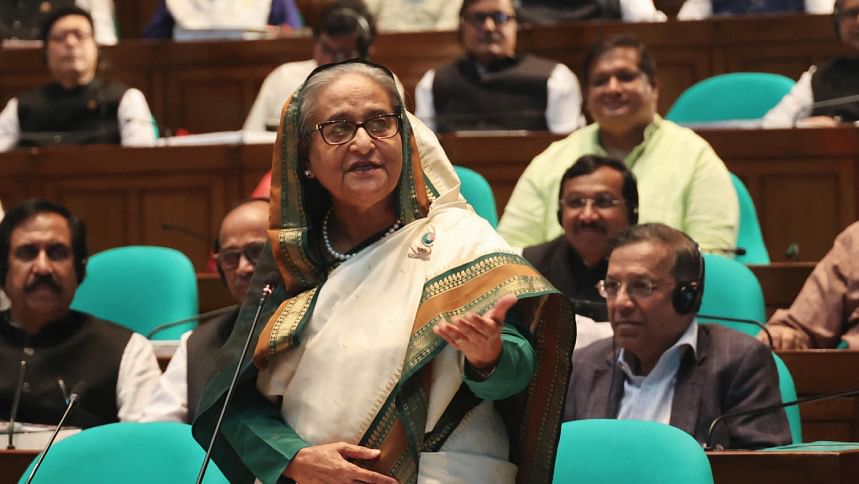 The government has taken all possible initiatives necessary to keep the country's economy vibrant despite the global economic recession caused by the Ukraine-Russia war and the Covid-19 pandemic, Prime Minister Sheikh Hasina told parliament today.
The premier said this while responding to a question from a ruling AL MP during the PM's question-answer session.
The PM's question-answer session was placed on the table with Speaker Shirin Sharmin Chaudhury in the chair.
Earlier, the House went into its budget session at around 5:05pm.
Hasina, also Leader of the House, said the government was able to bring the country's economy back to the pre-Covid high growth trend.
"Despite the severe Covid-19 pandemic crisis, our growth in the financial year 2019-20 was 3.45 percent which was one of the highest in the world in that period," Hasina said in her scripted answer.
She said, as a result of the various steps taken by the government to boost the economy, the GDP growth in the financial year 2020-21 has increased by 6.94 percent.
"It further increased to 7.10 percent in FY 2021-22."
The premier highlighted various measures including government expenditure rationalisation, social protection, subsidies in electricity, energy and agriculture sectors, export incentives taken by her government to keep the economy vibrant.
In reply to another query from Jatiya Party MP Syed Abu Hossain, the PM said the government has taken various steps to control the prices of daily essentials and the poor people are getting benefit from it.
In response to a query from JP MP Rustam Ali Farazi, Hasina said rail connectivity on the Dhaka-Mawa-Bhanga section of the Padma Bridge Rail Link Project may start by September 2023. The Jashore section may start by June 2024, she added.