Over 18,000 non-govt primary schools close doors in 2 years
Officials say pandemic to blame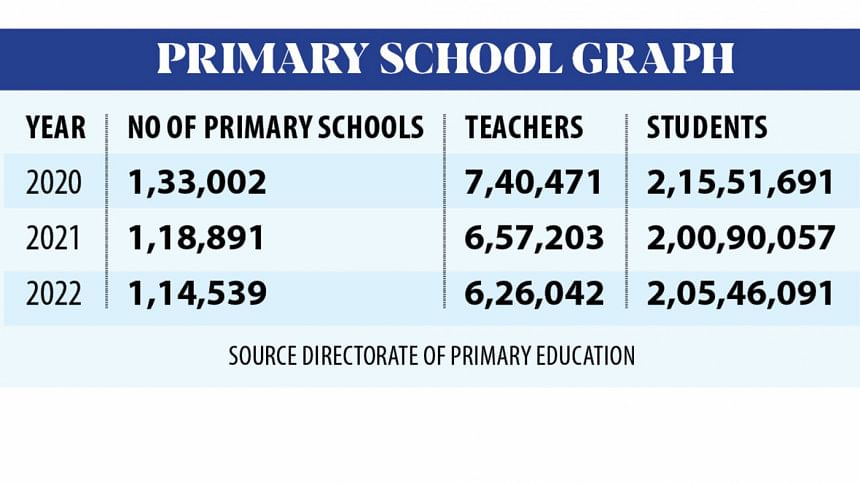 At least 18,465 non-government primary schools closed their doors for good in 2021 and 2022 due to what officials said were the impacts of Covid-19 pandemic.
Most of these schools were closed in 2021 because the owners could not bear the cost of running them.
The final draft of Annual Primary School Census (APSC) 2022 shows 4,352 private primary schools faced closure last year.
In 2022, the number of teachers in non-government primary schools was 6,26,042, which indicates that 1,14,429 had left the profession since 2020, shows data from the Department of Primary Education (DPE).
"We have been talking about the possibility of private primary schools closing down because of the lingering impact of Covid-19 pandemic. Now the government data has shown the reality," Rasheda K Choudhury, executive director of Campaign for Popular Education, told The Daily Star.
The schools that faced closure used to cater to the needs of certain groups and they played a role in ensuring education for all, she said.
Since it has a clear picture now, the government should come up with plans to effectively bring the students of those institutions back to the classrooms.
Days after the first few cases of coronavirus were detected in Bangladesh, the government on March 17, 2020, ordered the schools to close their classrooms and impart lessons online. The classrooms reopened 18 months later.
Amid rising number of coronavirus cases, schools again remained closed for almost a month in early 2022.
There were a total of 1,14,539 government primary schools, kindergartens, NGO-run schools, ibtadai madrassas, and other private schools in the country last year.
The number was 1,33,002 in 2020 and 1,18,891 in 2021, shows the DPE data.
The number of NGO-run schools fell from 4,619 in 2020 to 3,753 in 2021 and 2,911 in 2022. The number of kindergartens fell from 29,897 in 2020 to 28,193 in 2021 and 26,478 in 2022.
The number of primary school-level students was 2,15,51,691 in 2020, and it fell to 2,00,90,057 in 2021, and slightly rose to 2,05,46,091 in 2022.
Farid Ahmed, secretary at the primary and mass education ministry, said many students quit schools during the pandemic and enrolled to Qawmi madrasas. This happened mainly because of the temporary suspension of a stipend programme for students.
Rasheda points out that the closure of so many schools means a greater number of educated people are unemployed.
Iqbal Bahar Chowdhury, chairman of Bangladesh Kindergarten School and College Oikya Parishad, says the chances that the closed schools would reopen are slim.
During the pandemic, the owners sought financial assistance, soft loans, and waiver of utility charges, but did not get any, he said, adding that only government incentives could bring the schools back to life.
However, the government currently has no plans to provide incentives to schools and kindergartens, ministry officials say.
If the closed schools are to resume their academic activities, the DPE will not stop them, said its director general Shah Rezwan Hayat.
The data shows that the number of pre-primary students was 39.50 lakh in 2020, 31.36 lakh in 2021, and 33.83 lakh last year.