Have no info on who were killed by Rab: Momen after US sanctions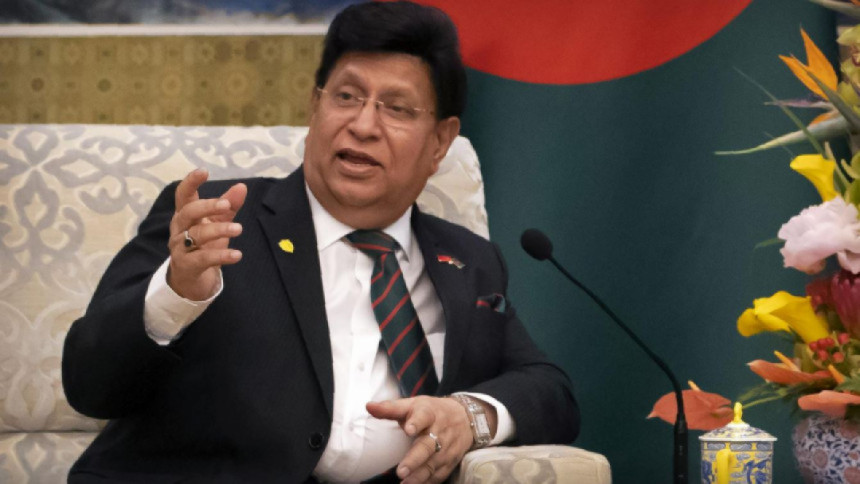 The government has no information on who were killed by Rab, Foreign Minister AK Abdul Momen said today in response to US sanctions on the elite force and seven of its current and former officials.
"They said, in Bangladesh, 600 people were killed by Rab in 10 years. We have no information who were killed. They should have done more fact-finding and not say something just for the sake of saying," he told journalists after an event at the Foreign Service Academy.
The sanctions on Rab and seven of its officials is very regretful, he said.
On Friday, the US imposed human rights-related sanctions on Rab and seven current and former top officials of the agency, including Benazir Ahmed, now inspector general of police.
Benazir, former director general of Rab, and others were designated by the Department of the Treasury under the Global Magnitsky sanctions programme in connection with serious rights abuse.
The others are: Rab Director General Chowdhury Abdullah Al-Mamun; Khan Mohammad Azad, additional director general (operations) of Rab; Tofayel Mustafa Sorwar, former additional director general (operations); Mohammad Jahangir Alam, former additional director general (operations), and Mohammad Anwar Latif Khan, former additional director general (operations).
Besides, the US State Department barred Benazir, and another former official of Rab, Lt Col Miftah Uddin Ahmed, from traveling to the United States.
Momen said he was in a good mood on Friday as Malaysia decided to recruit workers from Bangladesh, but at night the US Ambassador called him to inform of the new rule by the Biden administration under which Rab and the seven officials came under sanctions.
The US has listed such an institution based on the information of some NGOs and rights groups and their own analysis.
"This is very regrettable that they have sanctioned such an institution that made Bangladesh free of terrorists. They eliminated terrorists like Bangla Bhai and the people of Bangladesh have trust in that institution," Momen said.
He said six lakh people disappear every year in the US, while police kill about one thousand in the line of duty, but none is punished.
"This is probably for a show, a new style ["dhong"]. The head of the institution is sanctioned," he foreign minister said, adding that in all countries, there is disappearance. Thousands of people are found dead, he added.
Asked if such a sanction would affect the bilateral relationship with Bangladesh, he said it may but the US can say for sure. He said the government would also analyse if the country is victim of any geopolitics.
The Foreign Minister also went on to say that those who work well often face attacks.
It is unfortunate that a mature country like the US takes actions that appear to be not so mature. They took many actions against many countries but they were not beneficial to those countries or their own people, Momen said.
He said Foreign Secretary Masud Bin Momen summoned US Ambassador this morning and discussed the matter. "Miller is also somewhat surprised. Let's see. We have to look into it."
Asked for comments on US dropping Bangladesh from the list of invitees at the Democracy Summit, Momen said all countries have democracies in their own style.
"One democracy does not fit all the countries. You cannot fix democracy in your own country but advise others," he said.