Dhaka wants apology from Pakistan first for strengthening ties
Momen tells reporters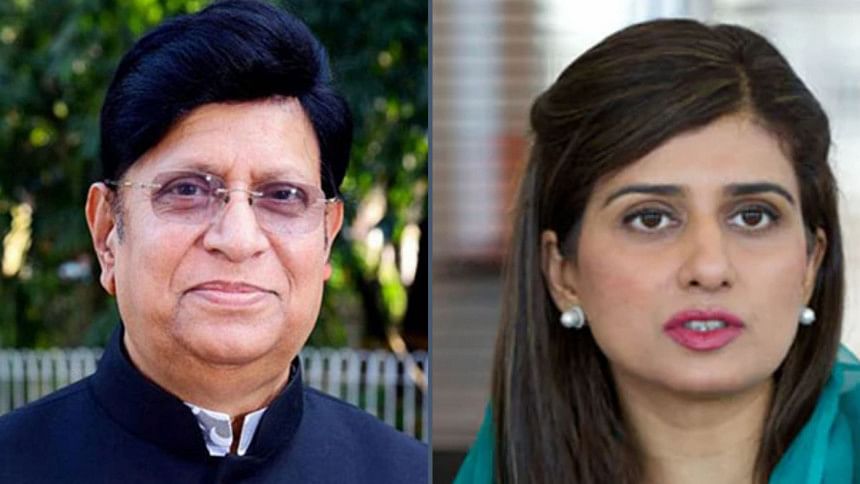 Foreign Minister Dr AK Abdul Momen today said Bangladesh wants Pakistan to "seek apology publicly with a formal announcement" for the atrocities perpetrated against unarmed Bangalees in 1971.
"You first need to seek an apology publicly. I have a political reason … if it comes first, I can argue for you. Otherwise, it will be very difficult for me. I can't do that. It's pure and simple," the minister told reporters sharing what he conveyed to State Minister for Foreign Affairs of Pakistan Hina Rabbani Khar.
Talking to media at the state guesthouse Padma, Momen said Pakistan wants to strengthen relations with Bangladesh but Bangladesh reminded that seeking an apology publicly is the first thing to do.
Hina Rabbani held a meeting with Momen in Sri Lanka's capital city Colombo yesterday.
Momen visited Sri Lanka as a guest for the country's 75th Independence Day celebrations, for which the guest list was filled up mostly by neighbouring countries at the foreign minister level.
Responding to a question, Foreign Minister Momen said the Pakistan state minister did not make any direct reply to his remarks but mentioned that they have some limitations.
The foreign minister said if there is an issue of improving relations between Bangladesh and Pakistan that must begin with working in the economic area.
He urged Pakistan's state minister to withdraw the restrictions to make the trade relations fairly balanced.
Momen, along with other South Asian ministers, attended the "Independence Parade" featuring march-past, fly-by, and parachute display by the joint forces at the Galle Face Green in Colombo.
State Minister for Foreign Affairs of India V Muraleedharan also met Foreign Minister Momen.
They discussed the upcoming bilateral visits and issues of mutual interest and emphasised trade and commerce for the benefit of the people of the two countries.
All the ministers from South Asian countries appreciated the current government under Prime Minister Sheikh Hasina for the continued economic advancement of Bangladesh.
Last evening, Momen attended a reception hosted by the Sri Lankan President in honour of visiting foreign ministers/dignitaries from other South Asian countries – namely, India, Nepal, Bhutan, and Pakistan – and the secretary general of the Commonwealth as well as state minister for foreign affairs of Japan.