'Tortured, under surveillance'
Teachers, friends allege husband, in-laws didn't want Meghla to study, murder case filed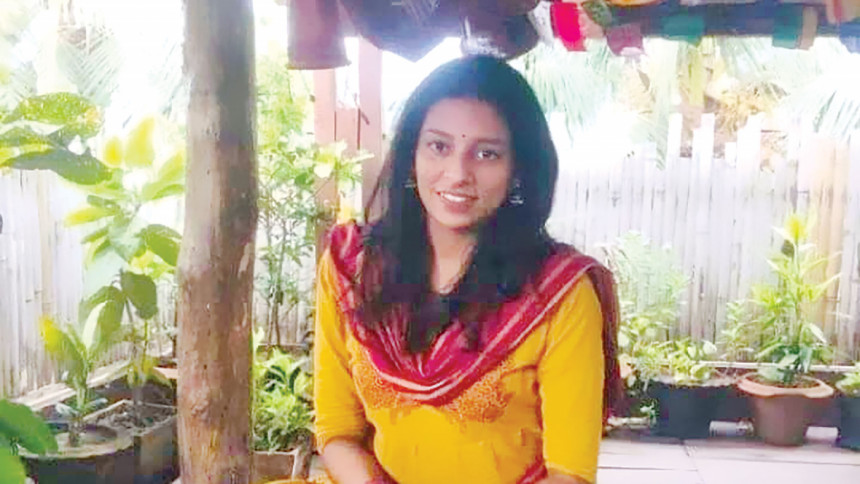 Dhaka University student Elma Chowdhury Meghla wanted to continue her studies after marriage, against her in-law's will.
She endured numerous physical and mental torture for this. In fact, her in-laws even cut off her hair once to stop her from going out of their house.
Meghla, 25, used to stay with her husband's family in the capital's Banani area. On Tuesday, she was found dead. There were bruises all over her body.
The victim's father Saiful Islam Chowdhury filed a murder case with Banani Police Station yesterday in connection with his daughter's death.
Meghla's husband Iftekhar Abedin, her father-in-law Mohammad Amin, retired army personnel, and her mother-in-law Shirin Amin were made accused in the case.
Nur-E-Azam Mia, officer-in-charge of Banani Police Station, said they arrested Iftekhar and produced him before a court. The court put him on a three-day remand.
The duo got married in April this year. After three months of their marriage, Iftekhar moved to Canada. He returned on Saturday.
On Tuesday, he called Meghla's mother over the phone and said that her daughter was seriously ill and she was being taken to United Hospital.
According to the inquest report, there were marks of several injuries on different parts of her body.
Although Iftekhar's family termed it a "suicide", Meghla's parents, relatives, teachers and friends said that she was tortured to death by her husband and in-laws.
Talking to The Daily Star, Meghla's father Saiful Islam said she had been complaining about abuse by her husband and in-laws. They seized her mobile phone, forced her to wear hijab, and restricted outdoor movements.
"After a week of her marriage, Meghla came to know that Iftekhar had a previous marriage with a woman in France and they had a 12-year-old daughter.
"Few months after the marriage, I realised that it was a wrong choice. I even asked my daughter to return to our home, ending the marriage. She insisted to stay and adjusting with her in-laws."
"MEGHLA WAS UNDER SURVEILLANCE"
Teachers and students of the Department of Dance at Dhaka University formed a human chain in front of Aparajeyo Bangla yesterday, demanding justice for Meghla.
Her classmate Ariful Islam said, "Meghla was very friendly. After marriage, we saw how she moved away from her normal self. Her husband would stop her from communicating with us. She could not even get out of the house. When she went out, she was accompanied by a bodyguard, and her husband used to supervise everything she did via video call."
Her other classmate Jannatul Ferdous said that they could not communicate with her ever since Meghla got married.
"We found her phone switched off or her in-laws used to receive the calls whenever we called her," she said, adding that Meghla last came to the university to attend an exam in September.
Tamanna Rahman, a teacher of the victim, said a man, like a bodyguard, accompanied the student when she came to the department to attend the exam.
Rezwana Choudhury, chairperson of the department, said, "Why did she have so many bruises if her death was natural? We demand a fair investigation and a fair trial."