Pond in arable land worries Lalmonirhat farmers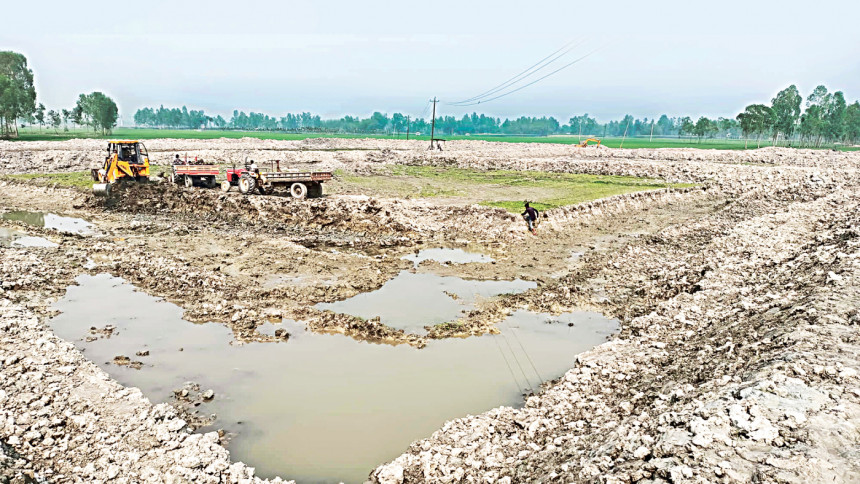 Over 100 farmers in Aditmari upazila are ringing an alarm as a local influential is digging a pond on around 22 bighas of land without prior approval of the authorities, which they think might make their cropland waterlogged.
Farmers of Kismat Khutamara village in Saptibari union of Aditmari in Lalmonirhat said due to the digging of the pond in the middle of cropland, the area will be waterlogged hampering the cultivation of crops in the adjacent lands.
According to villagers, a local man named Majidul Islam has been digging the pond on his 22 bighas of land since last February. The soil extracted from the pond is going to a local brick kiln. The soil is being transported by a few trucks from morning till evening every day. Consequently, the village road has become battered. Four culverts of the road have already been broken.
Due to this pond, waterlogging will be created on more than three hundred bighas of land, the farmers claimed.
Local farmer Salamat Ali, 55, said "Majidul Islam is digging the pond on his land without consulting any of us. We can't even protest him because he is influential."
Another farmer, Mozammel Haque, 56, said that it will not be possible to grow crops on their land once the pond is dug.
"Waterlogging will be created in the land and the crops will be ruined," he said.
Local farmer Jafur Ali, 57, alleged that Majidul Islam was planning to buy their lands cheaply by digging the pond amid farmland.
Contacted, Majidul Islam said that he has been digging the pond on his own land. So there is no need to take any permission.
"I want to make a profit by farming fish so I am digging the pond," he said.
However, Majidul denied the allegation that he was planning to buy other people's land at a cheaper rate.
Aditmari Upazila Nirbahi Officer (UNO) G R Sarwar said no one can dig a pond on arable land.
He will visit the spot and take necessary action soon, said the UNO.