This must not happen to any other child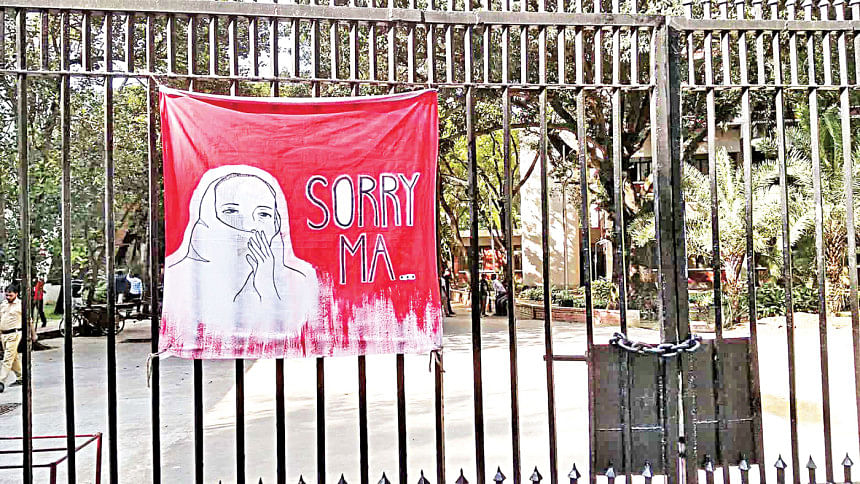 The parents of slain Buet student Abrar Fahad said they do not want to see anyone else being killed by fellow students on university campuses like their son was.
They demanded the quick execution of the verdict that sentenced 20 Buet students to death and five others to life imprisonment for killing Abrar.
"I am primarily satisfied, but I will be fully satisfied when the verdict will be upheld and executed by the higher courts," Abrar's father Barkat Ullah said in a prompt reaction on the court premises.
"Then Abrar's soul will be at peace."
Barkat came to Dhaka all the way from Kushtia with some relatives to witness the fate of those who brutally beat his son to death in the university's Sher-e-Bangla hall on October 7, 2019.
Abrar's mother Rokeya Khatun, while speaking to The Daily Star, said she expected that all the accused would be sentenced to death.
"I'm satisfied, but I wanted death penalty for all… They [all] destroyed my family.
"We have faith in the higher court, who, we hope, will award all of them death penalty."
She said she hoped that convicted Amit Saha, one of the five sentenced to life term, will be handed down death penalty.
"Though he was not on the spot that day, he was the one who directed others over the phone." 
The family members of the convicts burst into tears after the verdict was announced in the packed courtroom.
Some of them shouted that their sons are innocent and framed, and that they would go to a higher court to challenge the verdict.
"My son was in Rajshahi during the incident and was in no way involved; he was framed in the case," said Rabiul Islam, father of death-row convict Morshed Amartya Islam.
"We have been deprived of justice," said Abu Taher, father of Muhtasim Fuad, who was sentenced to life in jail.
Convict Amit Saha's mother Debi Rani Saha claimed her son was framed falsely in the case and that he was in his Netrakona home during the incident.
"His fault is that he was involved in Chhatra League politics."
PROSECUTION AND DEFENCE REACTION
The prosecution expressed satisfaction over the verdict in the Abrar murder case, while the defence claimed the judgement was not appropriate.
"This incident has traumatised people. The tribunal awarded highest punishment to the accused to prevent any recurrence of such brutality," said Chief Public Prosecutor Mosharraf Hossain Kajol, while talking to reporters on the court premises.
Faruque Ahmed, a lawyer for three accused, said, "Those who masterminded the murder were not brought under the trial. We had placed the issue before the court during our argument. We thought the judge will address it, but he did not do so… We will appeal to the High Court, challenging the verdict."