Journo injured in attack by 'BCL men' over running news article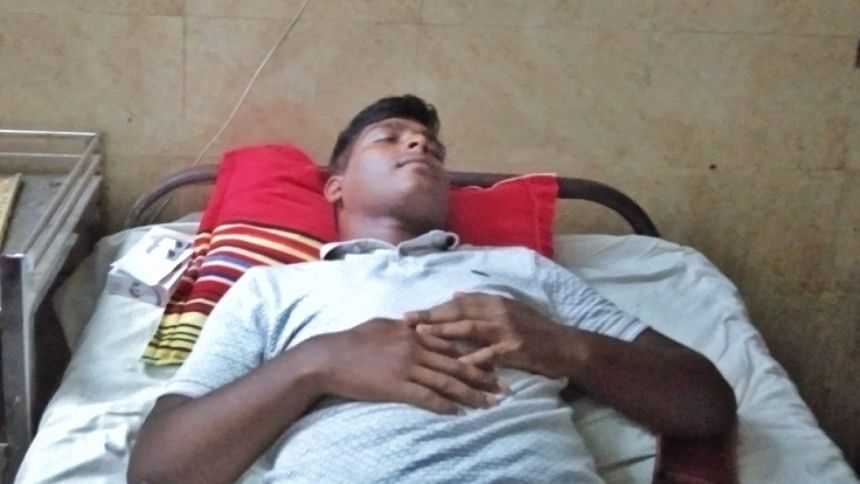 Chhatra League men have attacked and injured a local journalist over publishing a news article online against the president of its Patuakhali district unit.
Md Nayan Mridha, Patuakhali district correspondent of the daily Ajker Darpan and online news portal bartabazar.com, is undergoing treatment at Patuakhali Medical College Hospital, reports sour local correspondent.
Nayan said he came under attack around 7:30pm yesterday when he was riding a motorcycle on the way to Patuakhali Press Club.
When he reached Gymnasium area, the attackers, including Patuakhali district BCL President Md Saiful Islam's cousins Sabbir Hossain and Al-Amin started kicking and slapping him. They also abused him verbally.
"At one stage, Al-Amin tried to jab his fingers into my right eye," Nayan said. Later, some locals rescued the journalist and sent him to the hospital.
Nayan said Saiful was present at the scene.
According to the journalist, bartabazar.com ran a news article on the district BCL president's "committee business" on July 13.
"That's why I was attacked. The attackers also threatened me with cutting my arms and legs," he alleged.
Contacted, Saiful claimed that he was not present at the scene. "I heard that the journalist had an argument with some Chhatra League men. No incident of attack happened there."
Nayan lodged a general diary with Patuakhali Sadar Police Station last night, police said.
Md Jasim, OC of the police station, said legal action will be taken after an investigation.