HC issues injunction on sand-filling in Kohelia River of Cox's Bazar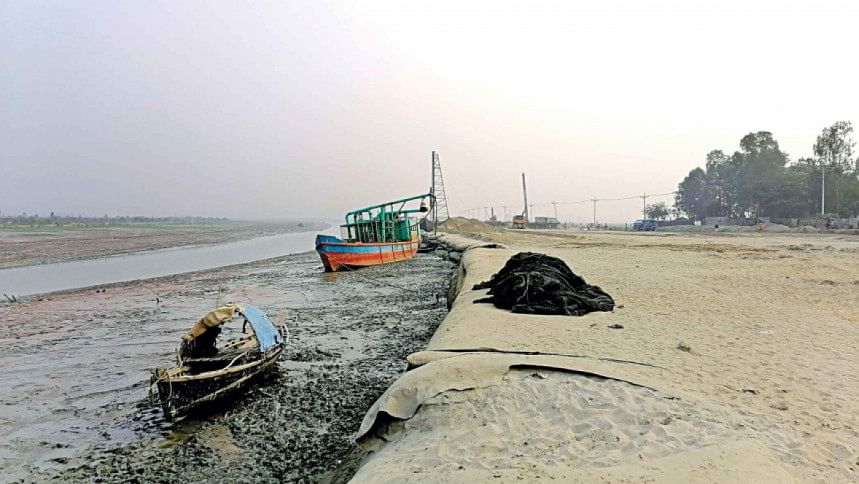 The High Court today issued an injunction restraining the authorities concerned of the government from illegal sand-filling in Kohelia River in Cox's Bazar for the next three months.
In response to a writ petition, the HC also ordered the National River Conservation Commission (NRCC) and Department of Environment (DoE) to determine the damage caused due to the filling in Kohelia River and to submit a report on this issue to this court in three months.
The NRCC and DoE have also been asked to describe the implementation of Matarbari Coal-Fired Power Project, for which sand-filling in the river is taking place and about the condition of its environment clearance certificate.      
At the same time, the HC also issued a rule asking the authorities to explain why their failure to protect Kohelia River flowing in Pekua and Moheshkhali upazials in Cox's Bazar, to assess the environmental impact of filing up of the river, to cancel the environmental clearance certificate of the project, to remove the soil dumped in the river and to restore its original flow, to determine its boundaries under the cadastral survey (CS) map and to declare Kohelia River as an ecologically  critical area should not be declared illegal.
The HC bench of Justice Md Mozibur Rahman Miah and Justice Md Kamrul Hossain Mollah came up with the order and rule following a writ petition filed environmentalist rights organisation Bangladesh Environmental Lawyers Association challenging the legality of sand-filling in Kohelia River for road construction by Matarbari Coal-Fired Power Project.
Funded by Jica, "Matarbari Ultra Super Critical Coal-Fired Power Project", is being implemented by Roads and Highways Department in Matarbari of Moheshkhali, Cox's Bazar.
Under the project, a 7.5km road along the river is reportedly proposed to be constructed for carrying materials for the power plant and peoples' movement. Although the Department of Environment allowed RHD to build road for 6.5km, the local constructing company already dumped sand on 7.4km stretch to construct the road.
Lawyers Syeda Rizwana Hasan and Sayeed Ahmed Kabir appeared for the writ petitioner during hearing of the petition.