Evaly couple in cuffs
Customers ask what happens now to the money they invested in the controversial e-commerce company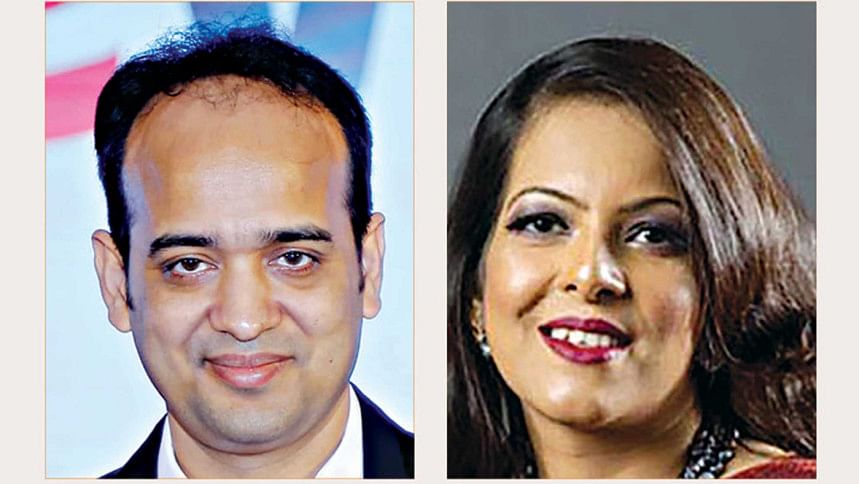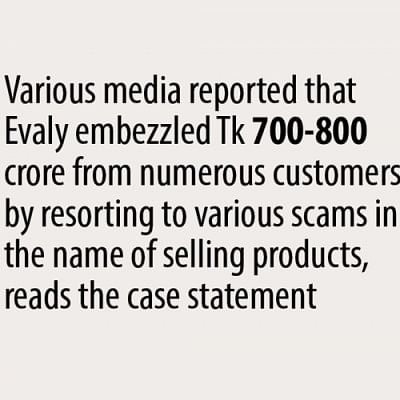 Rab arrested Evaly CEO Mohammad Rassel and his wife Shamima Nasrin yesterday on charges of embezzlement as thousands of consumers worry if they would get back their money or the products they had paid for.
Officers raided Rassel's flat in the capital's Mohammadpur around 3:45pm and left an hour and a half later with him and Nasrin, who is also the chairman of the controversial e-commerce site.
As the news broke, around 40-50 customers and suppliers gathered in front of the building on Sir Syed Road, expressing fears that they may never get back the money they paid to the company.
"Evaly owes me Tk 23 lakh. Now they have arrested the managing director. How will I get back the money?" asked Mahmud Hasan who six months ago ordered a car from Evaly that was never delivered.
Several hundred young men demonstrated in front of Evaly office on Dhanmondi-14 last night. They said they would form a human chain at Shahbagh in the afternoon today demanding that Rassel and Nasrin be released so that they could return they money Evaly owes.
The arrests happened hours after Arif Baker, an aggrieved consumer, accused Rassel, Nasrin and several unnamed individuals involved in the company's finance management of embezzlement in a case filed with Gulshan Police Station.
The complaint mentioned that different media reported that Evaly embezzled Tk 700-800 crore from consumers like Baker through scams orchestrated in the name of selling goods.
The e-commerce company disrupted Bangladesh's e-commerce landscape after its launch on December 16, 2018, with lucrative discounts on different goods. It began to face investigations amid allegations of delayed delivery of goods despite receiving payments.
Khandaker Al Moin, Rab's Legal and Media Wing director, told reporters at a briefing in the evening that the raid was conducted after the case was filed over misappropriation and deception.
Officers are primarily interrogating the couple at the Rab headquarters, he added.
"Different government agencies are working to make sure the consumers get their money back," Moin said.
Rassel and his wife live in a flat on the fifth floor of the eight-storey building. Witnesses said men in plainclothes were keeping an eye on the building since yesterday afternoon and a Rab team entered the building around 3:45pm and left with Rassel and Nasrin around 5:20pm in a microbus as disgruntled consumers and suppliers chanted slogans demanding the accused be given five months to pay back their money.
No officer talked to reporters during the raid.
Meanwhile, Dhaka Additional Chief Metropolitan Magistrate Muhammad Asaduzzaman Nur ordered police  to submit the probe report in the case on October 21.
On July 15, A Dhaka court restricted Nasrin and Rassel from travelling abroad as part of an investigation into an alleged embezzlement of around Tk 338.62 crore.
On September 14, a government-formed panel on e-commerce recommended that the commerce ministry hand over the matter of Evaly to the home ministry for taking legal action for anomalies in conducting its business.
The move came after Evaly, in response to the commerce ministry's directive to explain the whereabouts of around Tk 338 crore it owed the customers and suppliers, reported that its total liabilities were Tk 543 crore, including Tk 311 crore to more than 2 lakh shoppers and Tk 206 crore to suppliers as of July 15.
It did not disclose the number of vendors. Nor did it clearly mention when the dues might be cleared.
In its submission, Evaly said its tangible asset was worth Tk 105 crore and intangible asset Tk 438 crore, including a brand value of Tk 422 crore, a claim that raised questions because the company carried out the asset valuation, including that of the brand value, on its own.
If the brand value is not accounted for, the value dips to Tk 122 crore. Evaly's equity was Tk 1 crore, according to the submission.
For months, Evaly offered incredible discounts on products. In some instances, it offered cashback as high as 120 percent.
As of the middle of March this year, according to a Bangladesh Bank inspection, Evaly's liability to customers was nearly Tk 214 crore and to merchant suppliers nearly Tk 190 crore.
Following the findings, the commerce ministry on July 19 asked Evaly to explain the whereabouts of Tk 338 crore that the e-commerce site owed the customers and product suppliers.
By the end of July, Evaly disclosed Jamuna Group's interest in investing in the company.
However, Jamuna on September 7 said it had scrapped its investment plan.
Meanwhile, thousands of victims face uncertainties as to whether they would ever get their money back. Customers and suppliers of e-commerce platforms E-orange and Dhamaka are also facing a similar situation.
WORRY OVER LOSING MONEY
"If I don't get my money back, my situation will be very bad. I am very worried. I have invested the money by taking it from a cooperative society. But everything seems to be gone," Evaly customer Sajib told reporters on Sir Syed Road during the raid.
He said he paid the company Tk 3 lakh in January for goods that never came.
A vendor said, "What will happen to my money, who will I go to now? I would have gone to Rassel's home or office if he were not arrested. How will I get back the money? It will be a huge loss."
THE CASE
In the case statement, Arif Baker alleged that he and his friends were misled by the dazzling advertisement of Evaly and ordered some products from the company.
Between May 29 and June 19, the complainant paid around Tk 3.11 lakh.
The company promised a full refund if it failed to deliver the products in 7 to 45 working days.
As the deliveries were not made, he contacted a customer care representative of the company. Baker made the last call on September 5 but failed to get the product. Every time he called, false promises were made, said the complaint.
Baker alleged that on September 9, he along with his friends Abul Kashem and Abdullah Omar Haq went to the Evaly office on Road-14, Dhanmondi, and tried to meet Rassel. But they weren't allowed to see him.
A day later, he and his two friends went to the office again to talk to the representatives about the products, but got yelled at.
At one point, Rassel came out of his office and intimidated them and refused to provide them the products or the money, reads the complaint.
"At one stage, Rassel threatened to kill us," Baker mentioned in the statement. He also alleged that Nasrin, who was present there, also said the goods wouldn't be delivered and the money not returned. She also misbehaved and intimidated them, he added.
BNP MP Rumeen Farhana yesterday told parliament that due to the negligence of the government, companies like Evaly and E-Orange have robbed thousands of crores of taka.
Speaking on a point of order, she demanded that the government refund the money to the individuals who got cheated and later collect money from the dodgy companies.