CTTC arrests Ansar Al Islam recruiter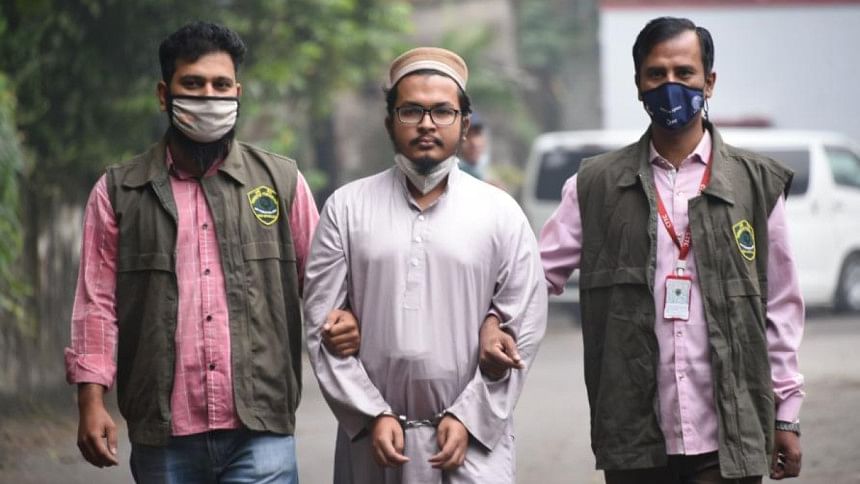 The Counter Terrorism and Transnational Crime (CTTC) unit of Dhaka Metropolitan Police (DMP) has arrested the head of 'Online Dawah' unit of banned militant group Ansar Al Islam in a special operation yesterday.
The arrested is Hasibur Rahman alias Azzam Al Galib. He is an LLB (honours) first-year student of Manarat International University.
The CTI-4 team of CTTC's City-Intelligence Analysis Division arrested him while conducting a special operation in Abdullahpur area under ​​Uttara East Police Station in Dhaka.
CTTC Chief Additional Commissioner of Police, Md Asaduzzaman, BPM (Bar), confirmed the development at a press briefing held at DMP Media Centre this noon.
According to the CTTC chief, Hasibur Rahman was contacted via Telegram from the IDs "Zayed Ibne Ali" and "Shafayet Musanna Isa" -- both involved in spreading the same ideology -- and they began campaigning and recruiting new members.
On various social media and online platforms, Hasibur used to circulate various statements of Ansar Al Islam.
CTTC recently arrested Al-Amin Siddiqui, the operator of the IDs "Zayed Ibne Ali" and "Shafayet Musanna Isa," as well as Jobaida Siddiqua Nabila, a female militant.