BRT girder tragedy: 10 accused placed on remand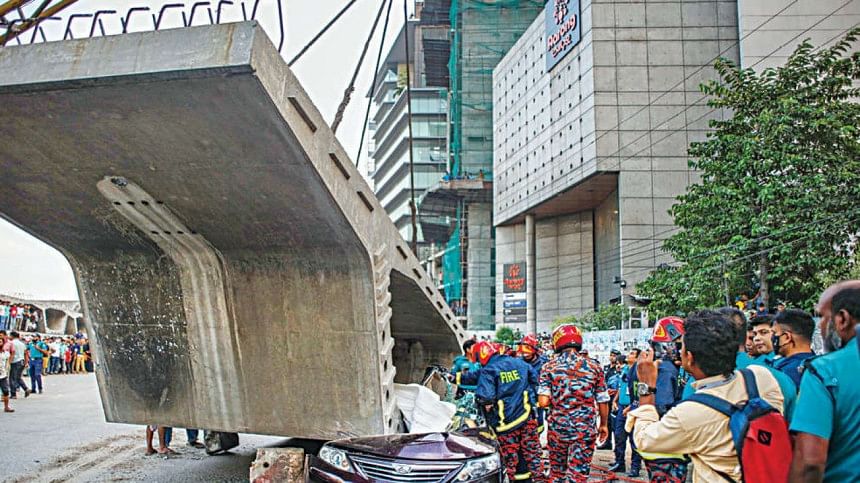 A Dhaka court today placed 10 people, including crane operator Md Al Amin Hossain alias Hridoy on different periods of remand in a case filed over the incident that resulted in the death of five people in the capital's Utrara on August 15.
Crane operator Al Amin (25), his helper Rakib Hossain (23) and Safety Engineer Zulfikar Ali Shah (39) were placed on a four-day remand each after they were produced before the court with a 10-day remand prayer.
The other seven were placed on a two-day remand each when they were produced before the same court with a seven-day remand prayer, our court correspondent reports.
Metropolitan Magistrate Md Mahbub Ahmed passed the order after Mohammad Yasin Gazi, an Inspector of Uttara Paschim Police Station and also the investigation officer of the case, produced them before it with the remand prayers.
Seven other arrestees are: China Gezhouba Group Company Procurement Officer Manjurul Islam (29), Build Trade Engineering Company's Administrative Officer Ruhul Amin Mridha (33), Marketing Manager Tofazzal Hossain alias Tushar (42), Four Brothers Guard Service employees Md Rubel (28) and Afroj Mia (50), IFS CON Bangladesh Limited owner Iftekhar Hossain (39), and head of operations Ajharul Islam Mithu (45).
In the remand prayer, the IO said crane helper Rakib Hossain was operating the crane while operator Al Amin was giving instructions from nearby.
The crane that toppled and dropped a girder segment on a car did not have a fitness certificate and the man operating it had no training for the job.
Due to their gross negligence, five people died and several others were injured. The contractor cannot avoid their responsibilities as they appointed the unskilled crane operators and that is why they need to be remanded to find out vital clues about the incident, the IO added.
Defence for the accused submitted separate petitions, seeking bail along with cancellation of the remand prayer on grounds that it was an accident.
Earlier all the accused were arrested from Dhaka, Gazipur, Bagerhat and Sirajganj on different days.
Five passengers, including two children, of a car were crushed to death and two others were injured after the girder fell on the vehicle, due to a lack of safety measures and traffic management during the work on one of Dhaka's busiest highways on August 15.
The following day, Afran Mondal Babu, brother of two victims – Fahima Begum and Jharna Begum, filed the case with Uttara Paschim Police Station against the concerned officials of China Gezhouba Group Co Ltd, the contractor firm, and the crane operator.