Assault on Navy Officer: Erfan Salim gets bail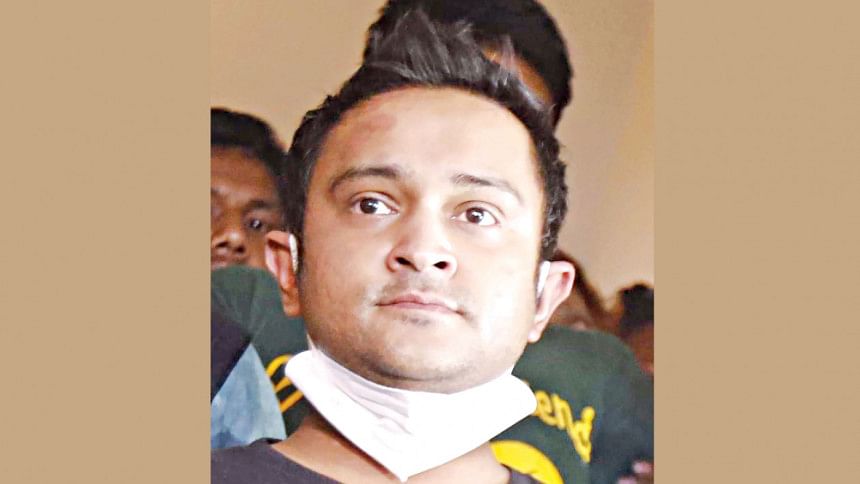 A Dhaka court today granted bail to Awami League lawmaker Haji Mohammad Salim's son Mohammad Erfan Salim in a case filed over the assault and attempted murder of a Navy officer in October 2020.
Additional Chief Metropolitan Magistrate Muhammad Asaduzzaman Nur passed the order after Erfan along with his lawyer Pran Nath appeared before it, seeking bail in the case.
The lawyer filed another petition, seeking an adjournment of charge framing hearing against Erfan and four others in the case.
On February 11 last year, Sub-Inspector Mominul Haque of the Detective Branch of police, also the investigation officer of the case, submitted the charge sheet to the Chief Metropolitan Magistrate Court of Dhaka.
Names of Erfan's bodyguard Zahidul Mollah, chauffeur Mizanur Rahman and protocol officer of Madina Group AB Siddique Dipu and accomplice Md Ripon Miah have been included in the charge sheet.
Of them, Zahidul is now in jail custody, Mizan and Dipu are on bail and Ripon is still at large.
According to the case filed by navy officer Wasif, an SUV, with the plate "Dhaka Metro-Gha 11-5736", rear-ended his motorcycle in the capital's Dhanmondi when he and his wife were returning to their Dhaka Cantonment home from Nilkhet around 7:45pm on October 25 of 2020.
A man then stepped out of the SUV and verbally abused them and left the spot. When the vehicle stopped at a traffic light, officer Wasif knocked on its window and introduced himself. At that, the occupants of the vehicle stepped out and started hurling abuse and assaulting him, the complaint said.
When his wife tried to save him, they also assaulted her too and left the scene, abandoning the vehicle.
Video clips of the incident caught by several bystanders went viral on social media. In one of the clips, an injured Wasif is seen describing the incident to bystanders.
Erfan and his bodyguard Zahidul were sentenced to one year in prison the next day for illegally possessing walkie-talkies and foreign liquor, after Rab officials led by an executive magistrate raided Haji Salim's building Chan Sarder Dada Bari on Debidas Ghat Lane in the capital's Chawkbazar area.
Erfan was granted ad-interim bail later.
On January 5 last year, Chawkbazar police submitted the final reports in the arms and drugs cases to the Chief Metropolitan Magistrate's Court in Dhaka.
The final report said police did not find evidence supporting the allegations against Erfan in the two cases.
However, Erfan's bodyguard Md Zahidul Mollah was charged with possession of an illegal firearm and narcotics.
On February 18 the same year, Judge KM Emrul Kayesh of the Special Tribunal-1 of Dhaka accepted the final report and relieved Erfan from the charges of arms and drug cases.