11 years of Felani killing: Family still waiting for justice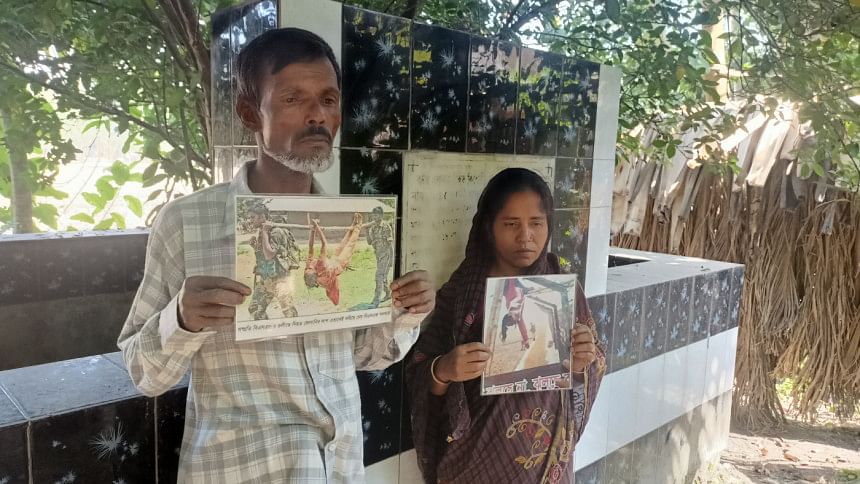 Today marks the 11th anniversary of Felani Khatun killing. On this day in 2011, Bangladesh woke up to the dreadful image of the teenage girl hanging from the barbed fence at the India border.
Her body was hanging from the fence for four and half hours. Global human rights organisations, including the media, became protesters.
However, Felani's murder case is still pending in the Supreme Court of India.
It has not yet been included in the judicial list. Her family is still waiting for justice.
Felani's father Nur Islam along with his family was living in India's Assam at that time where he used to run a small tea stall.
On the day of the incident, Nur Islam along with Felani was trying to come home to Bangladesh from India through the Anantapur border in Phulbari upazila of Kurigram by crossing the barbed wire fences.
Fifteen-year-old Felani was supposed to get married in Bangladesh, said her family.
Although Nur Islam managed to cross the fence, his daughter couldn't do it quick enough. Indian Border Security Force (BSF) member Amiya Ghosh fired shots and Felani died on the spot.
After remaining hanging for four and a half hours from the border fence, her body was taken away by BSF. It was handed over to the Border Guard Bangladesh (BGB) 30 hours after the incident.
About the case, Public Prosecutor of Kurigram Judges' Court and Human Rights activist Advocate SM Abraham Lincoln said, "On July 13 in 2015, Manabadhikar Surakhkha Manncha, a human rights platform in India filed a writ petition in the country's Supreme Court seeking justice and compensation for the killing of Felani Khatun".
"After the hearing on October 25 in 2017, the date was repeatedly postponed by the Supreme Court of India. The trial of Felani's murder has not started yet. The case has not yet been included in the agenda of the court's judgment," he said.
"We are praying for justice against BSF member Amiya Ghosh, not against any state. The Indian government is also sincere to our demand that BSF member Amiya Ghosh, who was involved in Felani's murder at the border, be brought to justice," he said.
"If Amiya Ghosh was tried, nobody else would dare to kill people so brutally along the border," he added.
Family members, relatives and villagers of Dakshin Ramkhana Colonetari village, bordering Ramkhana union in Nageshwari upazila of Kurigram still cry for Felani.
Felani's father Nur Islam cannot forget the scene of his daughter being shot dead in front of his eyes. He cannot manage to sleep well at night to this day.
"We were supposed to get compensation but we didn't yet. We can't even get a fair trial for our daughter's murder. We don't know if we will get justice for killing our daughter," he said.
Felani's mother Jahanara Begum said Felani was their eldest child.
"She was a beautiful girl. She was very interested in household works. Our family is still full of emptiness. Our daughter's dream was to get married and start a family of her own but her dream was taken away by the BSF. We are still waiting for justice," said Jahanara.
Felani left behind five siblings. Her younger sister Maleka Khatun is married. Brother Jahan Uddin, Arfan Ali, Akkas Ali and youngest sister Kajoli Akhter are studying.