Brickfields Near Farmland
Farmers facing challenges in crop production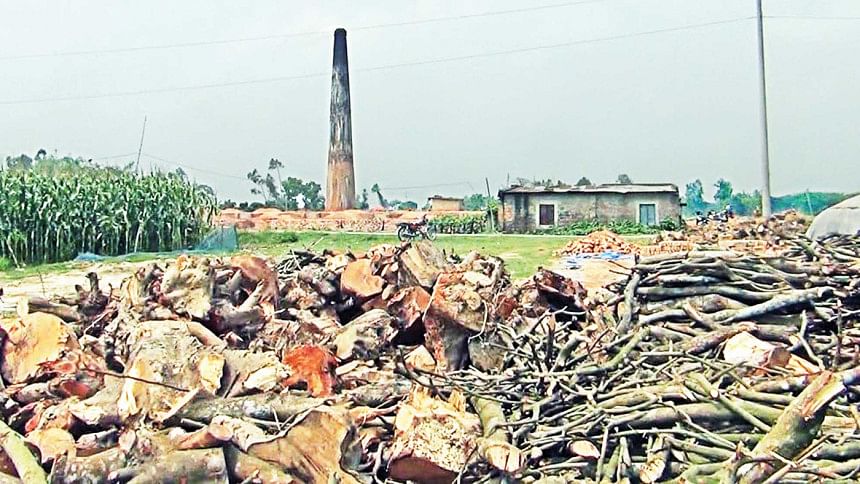 Many farmers in Biral upazila have been facing enormous challenges in producing quality crops in their farmlands due to emission of toxic gas from two surrounding brick kilns.
Affected farmers said toxic gas released from two nearby brickfields has been damaging their crops in around 200 bighas of land as well as causing health hazards for local people for the last four years.
They said not only paddy, but other seasonal fruit orchards, including lemon, banana, mango and litchi, are also badly damaged this year.
The two brick kilns--JBM Bricks and SKB Bricks – located at Rajuria village in the upazila have been running their operations for last 19 years.
Although local administration had shut those brickfields in the past for not meeting their requirements, the unscrupulous businessmen returned again and resumed operations once again, affected farmers said.
Farmers alleged that for the last four years they have been counting huge loss as almost all their crops were damaged due to release of toxic gas from the two brickfields.
The damages were extensively high in 2018 and this season, they added.
On April 17, about 50 affected farmers submitted written complaints to Biral Upazila Nirbahi Officer (UNO) and Upazila Agricultural Officer (UAO), seeking their intervention, but they are yet to take any necessary step in this regard.
In their complaint, farmers alleged that Farhad Hossain and Shafiqul Islam, owners of the two brickfields, have been using tyres and tree logs as fuel instead of coal for burning bricks.
The toxic fume released from both the brick kilns is not only damaging farmers' cash crops, it also causing serious threat to public health for long.
Ashraful Islam, one of the affected farmers, alleged that orchards of different seasonal fruits, including mango, litchi, lemon and banana, of 10 farmers on 50 bighas have been completely damaged this year due to release of toxic gas from the adjacent brick kilns.
Moreover, paddy on 30 bighas was also damaged, he said.
Ashraful said he cut down his mango trees on 6 bighas in 2018 as those died due to toxic gas emitted from the brick kilns.
He later planted lemon trees on 4 bighas, but his entire orchard got damaged again this year.
Despite repeated attempts this correspondent could not reach Biral UNO Afsana Kawsar for his comments in this regard.
Biral UAO Mostafa Hasan Imam said they are planning to assess the affected area.
When asked, Farhad Hossain, owner of JBM Bricks, said every problem has a solution.
According Dinajpur Department of Environment (DoE), there are 270 brick kilns in the district.
Of those, only 76 have clearance certificates.