Wired for development
Solar mini-grid brings reliable electricity to Jamuna river shoal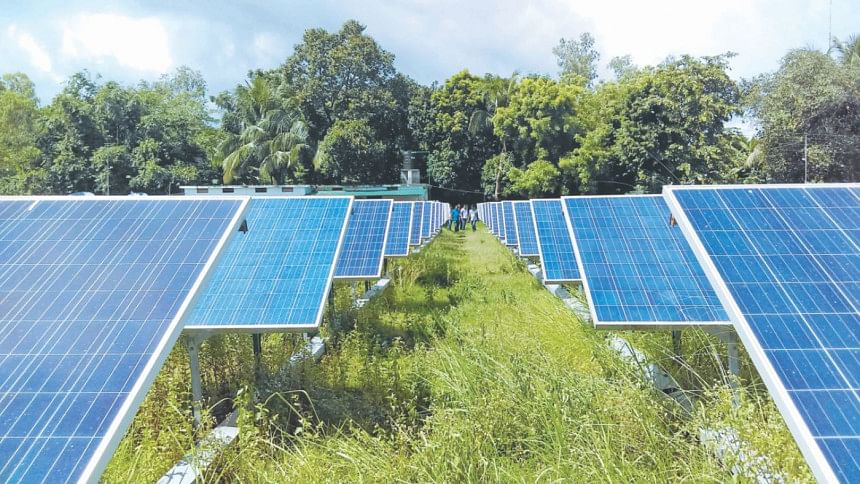 Business was always a struggle in Rupsha Bazar, a market on a Jamuna River shoal in Sirajganj. For many years, small business operators were at the mercy of costly diesel to run generators for electricity. Then, in February 2017, local concern Solargaon Limited backed by the government-owned Infrastructure Development Company Limited (IDCOL) opened a Tk 5.14 crore solar power mini-grid that changed the area's economic outlook and transformed home life as well.
"I had to buy up to four litres of diesel per day to run my computer services business," says business proprietor Mokadess Ali Liton from Rupsha Bazar. "I had to start the generator only after a client arrived because I was struggling to bear the cost. Since the mini-grid came into service my business expenses have halved."
Haider Ali, the owner of an adjacent welding workshop has also benefited. "Although the electricity bills from the solar connection are higher than if we were on the national grid, it is still cheaper than diesel," he says.
The 130-kilowatt plant that occupies one acre of land uses solar panels and industrial battery storage to power nine kilometres of transmission line, connecting 474 subscribers.
"We service some 164 commercial and 310 household clients," says the project's manager Sohel Rana. "A whole range of businesses rely on our output, including battery-run auto-rickshaw fleets, farms, service and retail sector enterprises and workshops."
"Meters are installed to measure usage," he explains. "The current price of Tk 20 per electricity unit is due to rise shortly to Tk 30, and there is a Tk 2,500 connection fee."
The project in Rupsha Bazar is but one of a growing number nationwide designed to cater to the country's electricity requirements into the future.
"Bangladesh has one of the world's lowest per capita electricity consumption rates," explained Mahmud Malik, IDCOL's director and CEO. "The government's target is to provide electricity to all citizens by 2021. Given that a large portion of the population lives in rural and often isolated areas removed from existing transmission lines, expanding the national grid alone will make it hard to achieve this goal. Solar mini-grids have an important role to play."
"IDCOL plans to make mini-grid electricity available to all sizeable river and sea island communities in the near future," he said. "We have 17 mini-grids in operation so far with a further ten approved. Our target is to have 200 mini-grid projects financed by 2025."
To establish a mini-grid with IDCOL financial assistance, an investor need only contribute twenty percent of the project cost upfront. A further fifty percent is provided by IDCOL as a grant, with the remaining thirty percent offered as a soft loan, at an interest rate of six percent over ten years.
"A mini-grid brings major change to a project area," Malik said. "Affordable, reliable electricity is invaluable to educational institutions and hospitals. New business and employment opportunities are created, and the availability of battery-powered vehicles facilitates connectivity, not least improving the mobility of rural women."
Householders in Rupsha Bazar are indeed witness to the change a mini-grid can bring. "I used to rely on my own solar panel at home," says dairy farmer, Mohir Uddin. "That powered two lights and a fan. But appliances like a television and a fridge weren't possible. Now we have both. More importantly, I run a motor to supply water to my farm and can refrigerate the milk."
"We used to buy perishables like fish and milk from the market daily," notes household manager Shahina Begum. "Now we purchase in bulk from the weekly market and store them in our freezer."
"The lifestyles and socio-economic conditions of the shoal-dwellers have developed a lot since the mini-grid was installed," observes the chairman of the local Mesra union council, Abdul Mazid. "In accessing utilities, the gap between them and city-dwellers is considerably less."