Pakistan should formally declare 1971 atrocities as genocide
Says head of European investigation team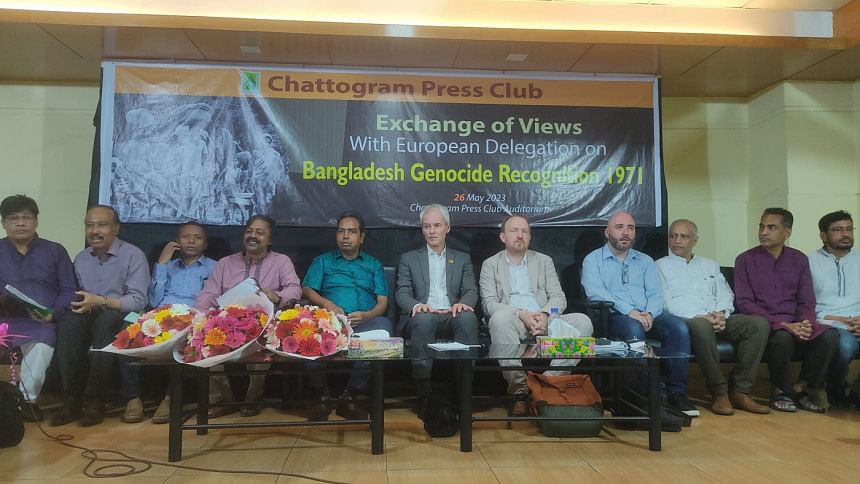 Former lawmaker of the Netherlands Harry van Bommel yesterday urged Pakistan to formally declare the atrocities it committed during the Liberation War as genocide.
Harry van Bommel, who is heading a three-member European team to investigate the genocide committed by Pakistan in 1971, also urged Islamabad to clear its position on the issue.
The two other members of the team are genocide scholar Dr Anthonie Holslag and political analyst Chris Blackburn.
"It should be wise for the Pakistani government to come to terms with reality and … formally declare that there was a genocide in 1971," said the former Dutch MP, reminding Pakistan of its obligations as a civilised country.
"It is important for Pakistan to take a clear position regarding the 1971 genocide. … It was not a massacre, it was genocide," he said, arguing that internationally renowned institutes have already confirmed it as a genocide using empirical methods based on UN criteria.
He also urged the Pakistani government to accept the "scientific conclusion".
He came up with the remarks at a view exchange meeting at Chattogram Press Club while replying to a question from a journalist.
The team is part of an initiative of the European Bangladesh Forum (EBF) which is eyeing to get world recognition of the genocide.
In Bangladesh, the team has met with victims and witnesses of the genocide, researchers, journalists, academics, policymakers, and government representatives. They have also collected evidence and recorded statements in support of the genocide.
In the press meeting, Dr Anthonie Holslag and Chris Blackburn shared their field experiences with the journalists.
British EBF chairman Ansar Ahmed Ullah and Dutch EBF chairman Bikash Chowdhury Barua also spoke.
Harry van Bommel said he and his team would work on the findings and present those to the UK and Dutch press.
"We will come to Bangladesh again if needed. We will do whatever we can to get the recognition soon," he said.
Chattogram Press Club president Salauddin Reza presided over the programme while general secretary Deb Dulal Bhoumik and senior leaders of the press club were present at the event.