ISKCON monks, imams of West Bengal protest Durga Puja violence in Bangladesh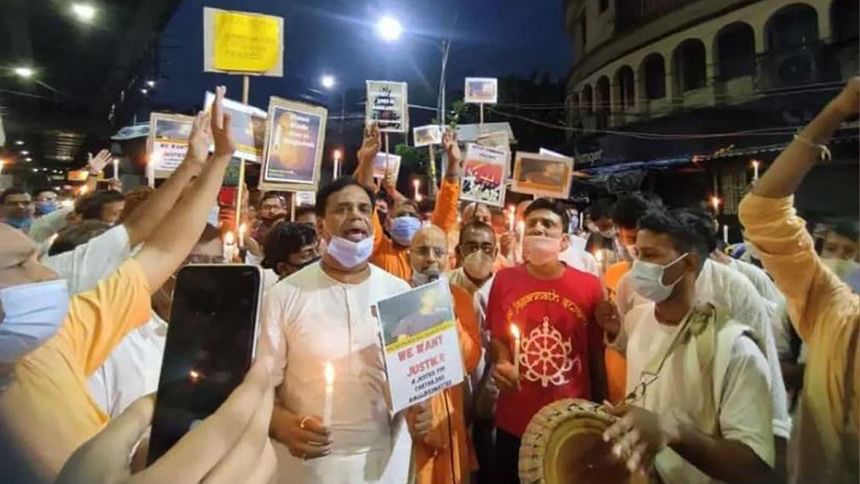 About 500 members and followers of ISKCON in India's Kolkata sang kirtan outside the Deputy High Commission of Bangladesh in Park Circus locality last evening protesting the attack on ISKCON temple in Noakhali last Friday.
The monks and brahmacharis of ISKCON lit candles and held up placards demanding action against the perpetrators of violence in Bangladesh, reports our New Delhi correspondent.
Vice President of ISKCON in Kolkata, Radharaman Das, told media that he has written a Ietter to UN Secretary General Antonio Gueterres urging him to send a delegation to Bangladesh to look into the matter.
He has also written to Indian Prime Minister Narendra Modi requesting him to talk to his Bangladeshi counterpart Sheikh Hasina to help end the ongoing violence against Hindus there.
"We will stage silent protests in all metropolitan cities, including Kolkata, to condemn this violence," he added.
West Bengal Imam Association also issued a statement denouncing the attacks on minorities in Bangladesh during the Durga Puja celebrations.
Md Yahya, chairman of the imam association, said, "The minorities in Bangladesh should have been celebrating Durga Puja but instead they are living in fear. As minorities in India, we understand what our Hindu brothers and sisters are going through in Bangladesh."
Social activist and businessman Mohd Tauseef Rahman, who this year was one of the prime movers of the revival of Durga Puja in Muslim-dominated locality Alimuddin Street in central Kolkata, said that Bangladesh government should investigate if anyone was trying to foment communal disharmony in this region.