China moves to curb nationwide protests
Security forces detain people, assault BBC journo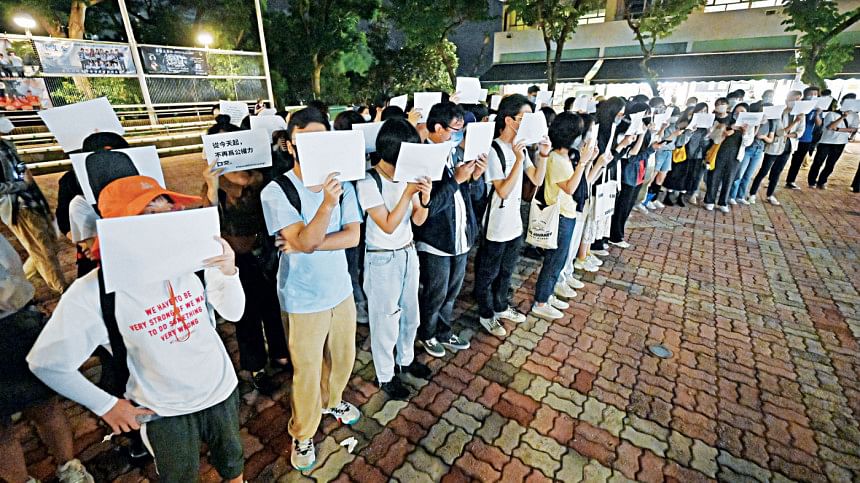 Chinese security forces detained people and appeared to prevent a planned protest yesterday as authorities worked to stamp out widening dissent seeking political freedoms and an end to Covid lockdowns.
People have taken to the streets in major cities and gathered at university campuses across China in a wave of protests not seen since pro-democracy rallies in 1989 were crushed.
A deadly fire last week in Urumqi, the capital of northwest China's Xinjiang region, was the catalyst for the public anger, with many blaming Covid-19 lockdowns for hampering rescue efforts.
Beijing accused "forces with ulterior motives" for linking the fire to Covid measures, saying yesterday local authorities had "made clear the facts and refuted this information and smears".
At an area in the economic hub of Shanghai where demonstrators gathered at the weekend, AFP witnessed police leading three people away. China's censors also worked to scrub signs of the social media-driven rallies.
A planned protest in the capital Beijing later yesterday came to nothing as several dozen police officers and vans choked a crossroad near the assembly point in western Haidian district.
Police vehicles lined the road to nearby Sitong Bridge, where a lone protester hung banners last month denouncing President Xi Jinping before being detained.
The BBC said one of its journalists had been arrested and beaten by police while covering the Shanghai protests, although China's foreign ministry said the reporter had not identified himself as such.