2 factory owners arrested
PM orders arrest of Rana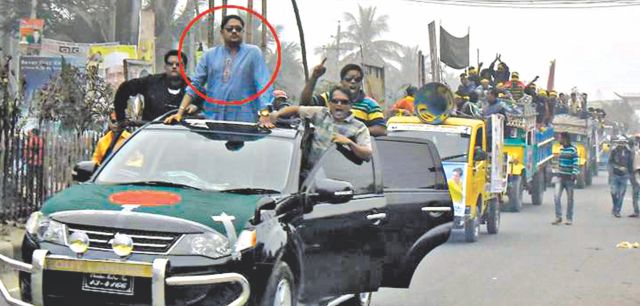 The photo taken on Victory Day, 2012, shows Sohel Rana, the owner of Rana Plaza, on an SUV of a motor procession of Jubo League, the youth front of ruling Awami League. On Thursday, Prime Minister Sheikh Hasina told parliament that she had seen the list of Savar Jubo League office bearers and Sohel Rana was not on the list. Photo: Banglar Chokh
Police arrested two garment factory owners, whose plants were in Rana Plaza, hours after Prime Minister Sheikh Hasina had ordered capture of the owners of the building and the factories that used to be there.
A senior official of the Detective Branch of Police told The Daily Star early today that they arrested Bazlus Samad and Mahmudur Rahman Tapash in connection with a case filed after Rana Plaza came crashing down on Wednesday.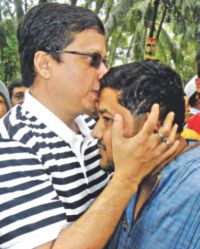 Lawmaker Murad Jang, left, and Rana during an anti-hartal rally last year. Photo: Banglar Chokh
The official refused to disclose anything further.
Earlier, Mahbubul Hoque Shakil, special assistant (media) to the prime minister, told The Daily Star that the premier's order had already been sent to all agencies concerned.
The move follows widespread criticism that the government was reluctant to take action against Rana, a leader of Savar municipality unit Jubo League. The collapse on Wednesday morning has left at least 315 garment workers killed and scores injured.
Later that day, Savar police filed a case against Rana, his father and four factory owners, but failed to capture any of them.
Rana went into hiding shortly after he was rescued from the rubble of the nine-storey building.
Our Manikganj correspondent reports: Law enforcers picked up two relatives of Rana from their village home in Manikganj early yesterday.
Shawkat Ali, officer-in-charge of Harirampur Police Station, said they handed over the detainees to Savar police in the morning.
Inspector General of Police Hasan Mahmud Khandaker said police were making their utmost efforts to arrest the accused.
Jubo League insiders said Rana was hiding in a house in the capital's Mirpur area.
Using political influence, Rana had grabbed 56 decimals of land at Savar Bazar bus stand area and built the high-rise there flouting related laws.