Another train set ablaze
4 more killed as Jamaat continues anarchy; fresh attack on Hindus in 2 districts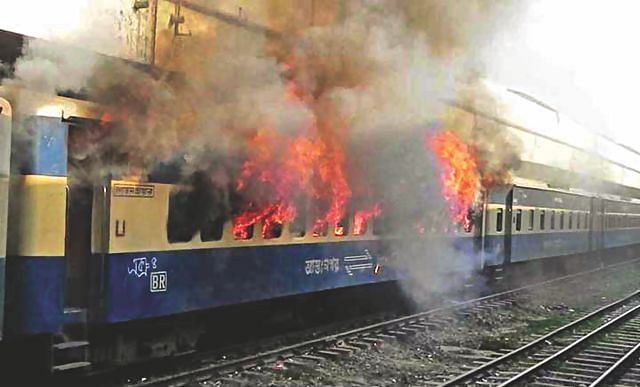 Upakul Express burns at Kamalapur Railway Station yesterday as criminals torched the train soon after it reached Dhaka from Noakhali.
Four people, including a teenage boy, were killed and scores injured as Jamaat-Shibir mayhem and their clashes with law enforcers continued across the country on the concluding day of Jamaat-enforced two-day hartal yesterday.
Of the deceased, three have been reported to be killed in Satkhira while a 14-year-old boy was killed in Sirajganj.
Jamaat-Shibir activists also set fire to three compartments of a train in the capital and to an abandoned engine of a train in Chittagong. On Saturday, activists of the party and its student supporters set ablaze three compartments of a train in Rajshahi.
The marauding protestors yesterday too set fire to houses and temples of minority communities in Joypurhat and Chapainawabganj, and vandalised Gonojagoron Manchas in Rangpur and Joypurhat.
Meanwhile, a Jamaat activist, who sustained bullet injury during Thursday's clashes at Mithapukur in Rangpur, succumbed to his injury yesterday.
This raised the death toll in clashes between fanatics and law enforcers to 71 since Thursday, when Jamaat leader Delawar Hossain Sayedee was awarded death penalty by International Crimes Tribunal-1.
In the capital, miscreants yesterday set fire to three compartments of Upakul Express at Kamalapur Railway Station around 4:00pm, minutes after it had reached there from Noakhali.
The compartments got totally burnt before firefighters had reached the spot. They however separated the burning coaches from main train to contain the blaze, said witnesses.
Railways Minister Mazibul Hoque blamed Jamaat and Shibir for the arson.
Miscreants also exploded a homemade bomb near Sonargaon Hotel in the capital where visiting Indian President Pranab Mukherjee is staying.
No injury had been reported in the blast, said law enforcers. Mukherjee, who is here on a three-day state visit, was in the hotel when the bomb was blasted, said officials of Indian High Commission in Dhaka.
Press Secretary to the Indian president Venu Rajamony said, "Indian security officials have expressed the view that this was a minor explosion. Bursting of such cocktails [homemade bombs] is common in Bangladesh during hartals and those cannot be described as bombs."
Meanwhile, a boy was injured when police trying to disperse marauding Jamaat-Shibir men opened fire in the capital's South Kamalapur. The protestors had first hurled two homemade bombs at the law enforcers.
Injured Junaidul Islam Tonmoy, student of class-VIII, was at the balcony of their house when a stray bullet fired by police hit him.
Jamaat-Shibir activists also brought out processions and exploded several homemade bombs in West Shewrapara, Banasri, Babubazar and Shyambazar areas of the capital. Police dispersed the protestors and arrested 19 activists.

SATKHIRA
Local administration has imposed Section 144 for an indefinite period since 12:30pm yesterday in Kalaroa municipality after three people had been killed in a gunfight between Jamaat-Shibir men and members of Border Guard Bangladesh.
Witnesses said Jamaat-Shibir activists had blocked the Kalaroa-Sarashikatki road with logs since the morning. They attacked police when the law enforcers reached the spot from Sarashikathi outpost and tried to clear the road around 10:30am.
Outnumbered, the law enforcers were forced pushed back but soon they returned with BGB personnel. The unruly protesters surrounded the team and started pelting the law enforcers with brick chips.
At this, the law enforcers opened fire in which two brothers, Arif Billah, 40, and Ruhul Amin, 35, died on the spot, while three others got injured. Of the injured, Shamsur Rahman, 42, died at Satkhira Sadar Hospital at 8:30pm.
Jamaat-Shibir activists also looted and torched the houses of an Awami League union leader and three Jubo League workers in Kalaroa and Satkhira sadar upazilas.

SIRAJGANJ
A teenage boy was killed when police opened fire in the face of attacks by Jamaat-Shibir activists in Ullapara upazila. The deceased was identified as Mahfuz.
At least 15 people were also injured, two by bullets, during a clash at Delua village, said Sirajganj SP Humayun Kabir
He said Jamaat-Shibir men had blocked the Bogra-Nagarbari Highway with logs at Delua point since the morning. They locked into a clash with police around 8:30am, when the law enforcers tried to free the highway.
Pro-hartal activists also removed several railway slippers of a bailey bridge at Baraipara in sadar upazila.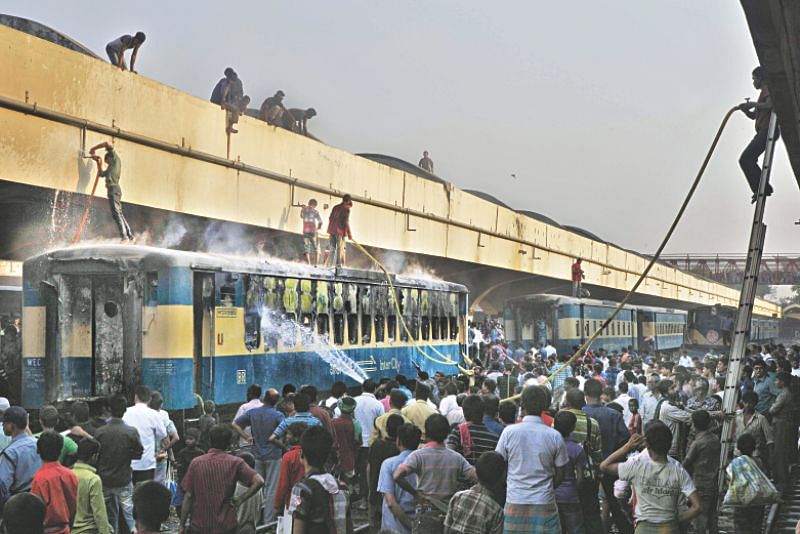 Urchins and youths help firefighters douse the flames.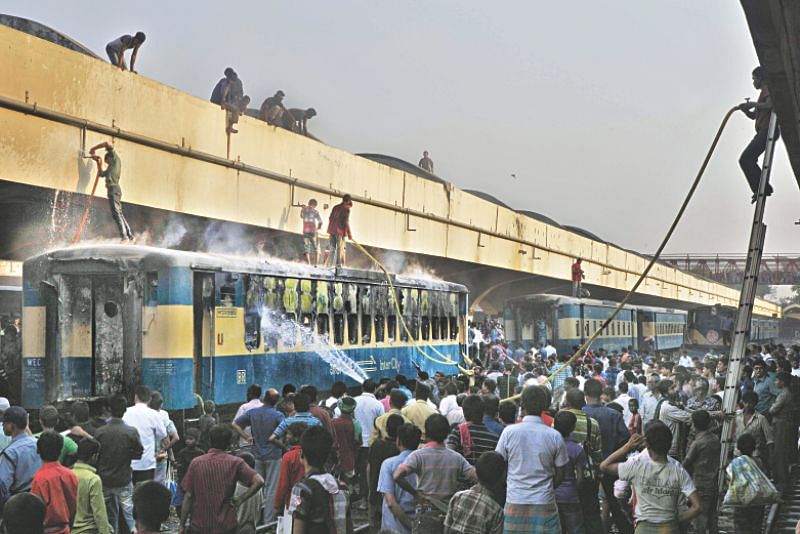 Urchins and youths help firefighters douse the flames.
JOYPURHAT
Jamaat-Shibir men have looted and set fire to houses of ruling party activists and the Hindu community, and to roadside shops in Kalai village and Panchbibi and sadar upazilas of the district since Sunday night.
Police said the activists equipped with bamboo and sticks attacked and set fire to two houses of ruling Awami League adherents in Panchbibi upazila.
In the sadar upazila, they attacked and set the houses of two Hindu families on fire Sunday night.
CHAPAINAWABGANJ
Miscreants set fire to a temple at Alidanga area of Shibganj municipality early yesterday, some time between 3:00am and 4:00am, said Upazila Nirbahi Officer of Shibganj AZM Sharzil Hasan.
Milon Pal, president of the temple, said the Hindu community of the area feared further attacks.
RAJSHAHI
Miscreants late last night charged at least 30 homemade bombs on police when law enforcers tried to keep the crowd from setting fire to a covered van of Opsonin Pharmaceuticals Ltd at Bonodpur area under Motihar Police Station.
Motihar police claimed the miscreants to be adherents of Jamaat and Shibir. No casualty or injury has been reported so far.
CHITTAGONG
Criminals blasted at least five homemade bombs and set fire to an abandoned train engine at Chittagong Railway Station yesterday.
Security officials of the station doused the fire and managed to catch one of the miscreants. They handed him to law enforcers.
OTHER DISTRICTS
A state of panic prevailed in Bogra and Joypurhat where 15 people were killed in Sunday's violence. Most of the shops and business establishments of the two districts remained closed yesterday.
The clash in Bogra injured 21 policemen. Three of them were admitted to Combined Military Hospital in Bogra, confirmed Bogra Superintendent of Police (SP) Mozammel Haque.
Meanwhile, road communications of Cox's Bazar and Bandarban with rest of the country have remained suspended for the last four days, as Jamaat-Shibir activists blocked the highway by felling trees at Satkania upazila.
In Rangpur, Jamaat-Shibir men vandalised the Gonojagoron Mancha site at Badarganj Central Shaheed Minar in Badarganj upazila. They also desecrated the Shaheed Minar by walking on it with shoes on.
In Pabna, Jamaat-Shibir engaged hundreds of women and teenagers to block the Dhaka-Pabna highway in Bangabaria area of the sadar upazila. The protestors were equipped with brooms and sticks.
Jamaat-Shibir men vandalised shops and housed in Phulbari upazila in Kurigram and clashed with police also in Barisal.