34 opposition men denied bail again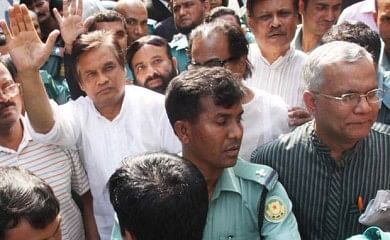 Opposition party leaders and activists were produced before a Dhaka court on March 20 this year. Photo: Banglar Chokh
Thirty-four opposition leaders and activists including Zainul Abdin Farroque, Amanullah Aman and Ruhul Kabir Rizvi were denied bail for the second time in two cases filed for assaulting police and blasting cocktails near BNP's Nayapaltan office on March 11.
The cases were filed with Paltan Police Station.
Metropolitan Sessions Judge (in-charge) Md Anisur Rahman rejected the bail petitions.
Earlier on March 20, chief metropolitan magistrates rejected bail petitions of 148 opposition men including the 34 leaders and activists and placed them on eight-day remand for each.
Lawyers of the 34 accused submitted the bail petitions on March 25 against the rejection order of the chief metropolitan magistrates.
Another court in Dhaka on March 31 took cognisance of the charges against 148 leaders and activists in one of the two cases.