Arson Attack on Red-light Area of Faridpur
No protection for sex workers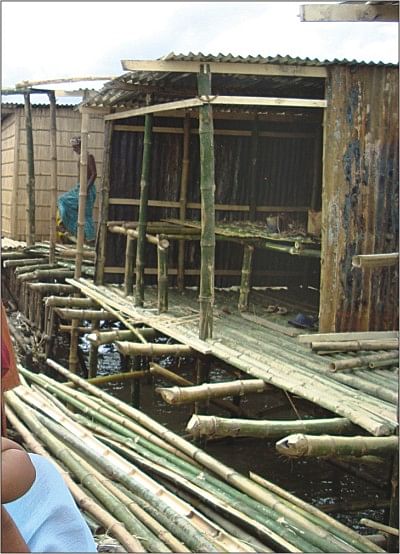 Mayna (name changed) has been living in the red-light area of Faridpur for the last 30 years. She once fled with her suitor to start a family but had to come back again with her nine-month-old daughter.
The woman, now 50, has become the leader of this sex workers' community at this brothel located at C&B Ghat and her daughter, Bina (name changed), is now a sex worker. Bina has a three-month-old daughter who one day will replace her mother -- it is a vicious circle and many girls born to sex workers have no alternative but to follow the footsteps of their mothers.
There are some 178 sex workers at C& B Ghat brothel at Dangi village and many of them landed here after falling victim to traffickers or being cheated by their loved ones. And they continue to suffer from deprivation and violation of rights.
Although they want to be rehabilitated in society, nobody comes to their aid. Instead, a vested quarter backed by local influential people set fire to their rooms on the night of June 23 in a bid to evict them.
Some 167 rooms burned down and they lost everything to the fire.
"The attackers even poured petrol into the tubewell in the area so that we cannot have access to drinking water. We have lost everything. Now there is no shelter, no income and not enough food for us," said Achhia (name changed), a middle aged woman.
She had opened a small grocery with a loan of Tk 20,000 from a local cooperative society, but the shop was gutted in the fire.
The sex workers filed a case with Kotwali Police Station in Faridpur on June 26 against Malek Sarder, Mamun, Harun, Hayder, Rashid and some eleven others, but nobody has yet been arrested.
"We are alone in this world. Nobody loves us. Even our relatives also do not accept us. The small amount of money I had saved for my future was burnt to ashes," said a sex worker.
Talking to The Daily Star, local people said they don't want that the brothel remains in place, but it was not fair to set it on fire.
Deputy Commissioner of Faridpur Helal Uddin said each victim has been provided with Tk 500 and 20 kg of rice, but they need more help to overcome their crisis.
Failing to get enough assistance from the authorities, the sex workers started rebuilding their houses by taking loans with high interest rates from various oragnisations.
Meanwhile, several rights organisations have extended support to these women by providing relief materials and legal aid.
Following a recent visit to the area, representatives of Bangladesh National Women Lawyers Association, Ain O Shalish Kendra, Manusher Jonno Foundation, Bangladesh Society for the Enforcement of Human Rights, Piact Bangladesh, Bangladesh Legal Aid and Services Trust, Durjoy Nari Sangha and Sex Workers' Network expressed deep concern over the arson attack.
They called for proper investigation into the attack, exemplary punishment to the culprits and steps to resolve their accommodation problem.