Kangal Harinath: A herald of social activism and Baul songs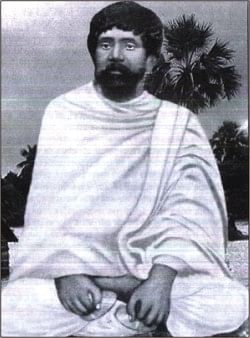 Today marks the 176th birth anniversary of Kangal Harinath who was born in 1833 at Lahinipara, under Kumarkhali upazila in Kushtia district.
Born Harinath Majumdar, he became known throughout the regions as "Kangal Harinath." Harinath dedicated his life to the welfare of the people and liberate them from oppression under the then zamindari system through his publication.
A two-day programme has been chalked out to observe Harinath's birth anniversary that includes a rally, discussion and cultural programme. The rally will be brought out today, while the discussion and cultural programme will be held on July 30.
Kangal Harinath Memorial Trust and Kumarkhali Press Club are jointly organising the programme.
Harinath is considered a pioneer in journalism at the grassroots level in the then undivided British India. He published a newspaper called Sangbad Prabhakar in 1854. Grambarta Prokashika, also published by Harinath, came out in 1860 -- first as a monthly, then fortnightly and eventually as a weekly magazine.
Harinath's publications featured news on the repression of farmers by indigo traders and zamindars, and earned credibility for their bold and honest reporting.
Harinath's legacy lives on through his music as well. A disciple of Lalon, Harinath started a Baul group in 1880 and named it 'Kangal Fikir Chander Dal'. He is particularly remembered for the large number and popularity of the Baul songs that he composed. His lyrics and tunes were simple, but the ideas and messages were profound. In his songs Harinath introduced himself as "Kangal" (fakir or mendicant) and the word became part of his name. One of his famed songs is "Din to gelo sandhya holo, paar karo amarey." Satyajit Ray used the song in his film "Pather Panchali."
Between 1883 and 1893, Harinath published his Baul songs in 16 volumes under the title "Kangal Fikirchand Fakirer Gitaboli." Harinath's disciples included Akshay Kumar Maitreya, Dinendranath Roy and Jaladhar Sen.
Harinath wrote 18 books. Among them, "Bijoybasanta" (1859), "Charucharitra" (1863), "Kabitakaumudi" (1866), "Bijoya" (1869), "Kobikalpa" (1870), "Akrur Sangbad" (1873), "Sabitri Natika" (1874), "Chittachapala" (1876), "Kangaler Brahmandaved" (1887-95) and "Matrmahima" (1896) are noteworthy.
Harinath died on April 16, 1896. His complete writings were published posthumously, in 1901, as "Harinath Granthaboli."
Recently, construction of a memorial complex at 'Kangal Kutir,' abode of Kangal Harinath in Kumarkhali, has begun.
Last year, on Harinath's birth anniversary, the then Kushtia Deputy Commissioner (DC) Nepur Ahmed announced the construction of the memorial complex.
Kushtia Zilla Parishad sanctioned Tk 12 lakh for the construction.