<i>Death lurks in Dhaka Zoo</i>
18 rare animals died in one year; various diseases inflicted on many of them; authorities say it's normal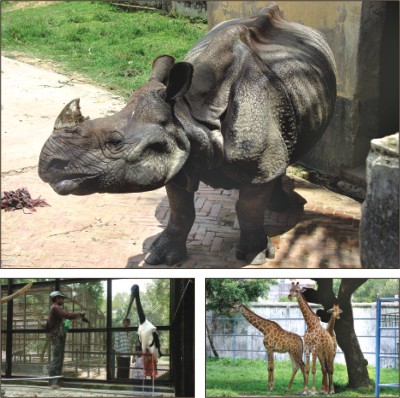 Death seems to lurk in the corridors of Dhaka Zoo with 18 rare animals having lost their lives in just over a year.
These include nine new animals procured from South Africa only last year.
The recent victims are a Nilgai and a Sambar deer. Both died in the first week of May, while the last Malayan Tapir was found dead in its shed in March.
A baboon and a wildebeest also died in March while one Royal Bengal Tiger, two fresh water crocodiles, one zebra and a lesser adjutant stork (Madantak) died in February.
Meanwhile, a prevalence of foot and mouth disease (FMD) among the cloven (divided) hoofed animals at the zoo has been reported, raising further concern about the situation.
Dr Aminur Rahman, curator of Dhaka Zoo, brushed aside any reason for concern saying the deaths at the zoo so far were normal. Some were caused by tuberculosis, gangrene, and also from fighting amongst each other. Others died of old age complications.
He said that 33 more animals at the zoo are expected to die from old age complications. An ostrich, a rhinoceros, a chimpanzee and a hyena are already in critical condition.
Last year in June 27 rare animals were brought to the zoo from South Africa. They include giraffe, zebra, oryx, wildebeest, impala, greater kudu, common elan, horse, donkey and kangaroo.
Among the newly procured animals, the first casualty occurred when a greater kudu died in the quarantine shed within 15 days of its arrival. Eight others -- two kangaroos, one impala, two oryx, two greater kudus and one mountain zebra -- died within the next four months.
The latest casualty was the wildebeest in March.
The procurement of these animals cost around Tk 5.5 crore. With the death of animals, the government has suffered a loss of around Tk 60 lakh so far. The mountain zebra alone cost around Tk 10 lakh.
According to the curator deaths up to 30 percent of a new lot is normal.
"It is absolutely normal to expect a few deaths when animals are introduced to a new environment," Rahman said.
"These animals underwent a long journey that was traumatic as well as hazardous. Some of them also sustained injuries during the voyage. The weather here is also completely different to what they have lived in so far. That's why they take time to adapt."
Meanwhile, the animals most popular with visitors -- the herd of giraffe -- are suffering from FMD.
Rahman said, "It is a season that favours FMD. There is an outbreak of the disease outside the zoo premises. Several divided hoofed animals, especially the spotted deer, are suffering from it but the situation is under control."
"A medical board has already been formed to contain infestation. We have arranged foot baths around the food area where animals tend to concentrate helping spread of the infection," he said.
Located on about 186-acres of land in Mirpur, the Dhaka zoo is currently home to around 2, 161 animals from 157 species. Of them, 57 are mammals including elephant, Royal Bengal tiger, lion, cheetah, rhinoceros, zebras, different species of monkeys and chimpanzees, hippos and more.
There are 61 species of birds, 11 species of reptiles including snakes and crocodiles and 28 species of fish in the zoo.
The zoo attracts about 10, 000 visitors every day.