Subarno Kazi: Carrying on the legacy of Nazrul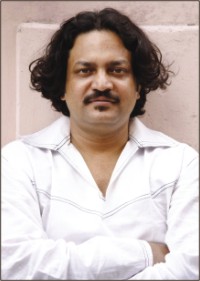 Subarna Kazi -- a close relative of the National Poet Kazi Nazrul Islam -- is a singer, actor, director, activist, and devoted Nazrul enthusiast. He has acted in several TV-plays and short films, mainly donning the role of Nazrul, perhaps because of the uncanny resemblance between him and the 'rebel poet.' In a recent interview with The Daily Star, the artiste from West Bengal shared his experiences and aspirations.
TDS: How did you get involved in acting?
Subarno: In 1994, Bangladesh Shishu Academy produced a short film, titled "Bangla Ma-er Damal Chhele," directed by late Rafiqul Bari Chowdhury. In the film, I played an adolescent Nazrul. That's how it all started.
TDS: What other plays/serials have you done?
Subarno: I again played young Nazrul in a TV-series called "Kazi Nazrul Islam" (produced by Durdarshan, Kolkata) in 2000. The series was re-telecast on BTV in 2002. The series also featured prominent actors of Kolkata including Bivash Chakravarty, Kaushik Sen, Kushal Chakravarty, Rita Koyral, Ashoke Bishwanathan and Arindam Ganguly.
In 2003, I played the protagonist Siraj in "Shilpi" -- based on a Nazrul drama -- directed by Chashi Nazrul Islam. Diti and Chhanda were my co-actors in the play.
On the occasion of Nazrul's death anniversary in 2004, "Chokher Joler Priya," a play based on Nazrul's life directed by Taher Shipon, was aired. Yet again, I played Nazrul, and Tania Ahmed played Fazilatunnessa.
On the occasion of Pahela Baishakh in 2004, Nargis Akhter directed a play "Batomul." Artistes from Visvabharati and Shantiniketan acted in the play. I played a painter, and film actress Mousumi was cast opposite me.
TDS: Tell us about your experience as a director...
Subarno: I directed a play, titled "Shilpi" that was screened at Toynbee Hall, London in 2006. Channel-S produced the play. Expatriate Bengali artistes Ranjana Chowdhury and Aminul Haq Badshah acted in the play.
TDS: And you've acted in films as well?
Subarno: In 2006, Chashi Nazrul Islam made a film, titled "Dhrubotara," based on a novel by Rabeya Khatun. Set against the backdrop of the Liberation War, the film was released on March 26. In the film, I played a Dhaka University teacher. My co-artistes were Ferdaus and Moushumi.
TDS: Moving towards music, West Bengal singers are often blamed for distortion/ inaccurate rendition of Nazrul's songs. What's your take on it?
Subarno: We are very concerned about this allegation. We've formed a cultural group named 'Gulbagicha' in 2000, with an aim to preserve and uphold original notations of Nazrul's compositions. In Bangladesh, Nazrul Institute has been working tirelessly towards this goal. The institute has already published copies of original recordings of 1500 to1600 Nazrul Sangeet. We'll disseminate these in West Bengal and urge the singers to stick to the authentic notations.
TDS: Tell us about Gulbagicha's recent activities?
Subarno: Gulbagicha made its debut with the dance-drama "Boner Bede," based on Nazrul's work. The production was first staged at Rabindra Sadan, Kolkata on May 30, 2000. At present we've been working with Padatik Natyagosthi, of Bangladesh.
TDS: What's next for your group?
Subarno: This winter we are hoping to arrange a grand assembly in Kolkata for Nazrul enthusiasts from all corners of the globe. There we will propose to set up a Nazrul University at Churulia in Bardhaman. We will also place our demand for opening up a department of Nazrul Sangeet, as part of the Fine Arts faculties, at both Visvabharati and Rabindrabharati Universities. Gulbagicha, in association with Padatik Natyagosthi, will arrange the next "Barshoboron Utshab" (Bangla New Year celebration) at Nazrul Mancho, Kolkata in 1417 (2010) with a view to fortify the bonds between Bangladesh and West Bengal.