Airstrikes kill 21 more in Pakistan
Militants attack 3 bases of security force, suicide blast kills 2 policemen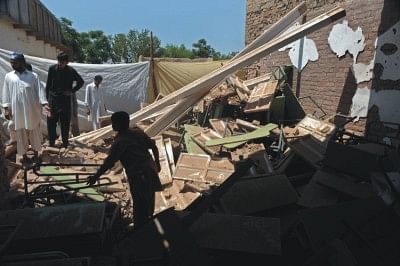 Pakistan's army offensive in tribal areas bordering Afghanistan heated up yesterday, with militants attacking three security force bases and military jets responding with airstrikes that killed at least 21 people, intelligence officials said.
The overnight and early morning clashes follow artillery attacks Sunday on suspected militant hide-outs in two towns in the northwest that killed 27 fighters, officials said. Elsewhere in the volatile region, a citizens' militia killed seven suspected militants.
The government announced last week that the military would go after Pakistan's Taliban commander, Baitullah Mehsud, in the South Waziristan tribal area. His stronghold is a chunk of the remote and rugged mountainous region where heavily armed tribesmen hold sway and al-Qaeda and Taliban leaders are believed to be hiding.
Washington supports anti-militant operations, seeing them as a measure of nuclear-armed Pakistan's resolve in taking on a growing insurgency. The battle in the tribal region could also help the war in Afghanistan because the area has been used by militants to launch cross-border attacks on US and other troops.
Militants used mortars, rockets, gunfire and even an anti-aircraft gun to attack three military bases overnight in South and North Waziristan, five intelligence officials said, speaking on condition of anonymity because they are not authorised to talk with media. Their reports could not be confirmed due to lack of media access to the conflict zones, and official military spokesmen could not be reached for comment.
Meanwhile, two policemen were killed Monday when a suicide bomber blew up explosives packed in his vehicle in Pakistan's northwest, where the military are battling Taliban rebels, police said.
The attack happened just on the border of Mansehra district and Swat, a scenic valley region where the military are currently locked in an eight-week offensive to crush Taliban militants in the area.