The Week That Was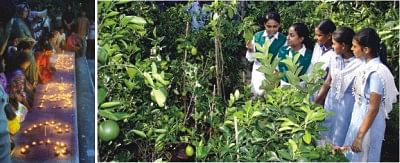 Attack on indigenous people protested
Speakers a human chain programme in the port city on Monday demanded exemplary punishment to the culprits involved in attack on indigenous people at Boroitali of Hafchhari union of Ramgarh under Khagrachhari on Saturday.
They were addressing a human chain programme held in front of central Shaheed Minar on Monday to protest the attack.
They also urged the government to take steps to stop grabbing of lands of tribal people by the outsiders in the Chittagong Hill Tracts.
Tribal students studying in different educational institutes in the port city participated in the human chain.
Leaders and activists of different political and cultural organisations expressed solidarity with the demand.
Pahari Chhatra Parishad Chittagong Organising Secretary Jing Bun Bam, Indigenous Cultural Forum Convener Kishore Chakma, Biplobi Workers Party leader Lutfunnesa , Bangladesh Chhatra Federation President Dipankar Ghosh, Marma Students Council Central General Secretary Masicing Marma and Proma Abritti Sangathan President Rashed Hasan spoke at the programme.
Reception to students
St Placid High School on Sunday accorded a reception to 123 students of the school who passed this year's SSC examinations.
Speakers at the reception urged the students to acquire proper knowledge while studying and maintain high moral standard in all sphere of life to build a better Bangladesh .
School Headmaster Brother Pradip Gomez chaired the function. Daily Azadi Chief Reporter Hasan Akbar, Assistant Headmaster Brother Nirmal Francis Gomez and senior teachers Enro Gomez and Ishrat Jahan spoke at the reception.
Call to strengthen local govt
Speakers at a view exchange meeting in Sitakunda on June 14 underscored the need for greater coordination among the upazila and union parishad for strengthening local government.
They said this at a meeting of chairmen of upazilas, unions and officials of district administration at the office of Sitakunda Upazila Parishad. Deputy Commissioner of Chittagong Fariduddin Ahmad Chowdhury was the chief guest at the meeting chaired by Sitakunda UNO Abdur Rauf.
" Chittagong can be made a beautiful place if we all work together," the DC said.
Sitakunda Upazila Chairman Abdullah Al Baker Bhuiyan, Vice Chairwomen Nazmun Nahar Chowdhury, Vice Chairman Mostafa Noor, Banshbaria Union Parishad Chairman Azizul Hoque, Upazila Health Officer Dr Abu Taher and Agriculture Officer Golam Mostafa also addressed the meeting.
Later, the DC visited some schools, colleges and development projects at the upazila.
Withdrawal of duty on newsprint demanded
Bangladesh Newspaper Agents' Association urged the government to withdraw proposed duty on newsprint for the sake of the newspaper industry.
"The proposed duty imposition on the imported newsprint will create an unstable situation in the industry as a whole. It also would put the journalists, newspaper employees and distributors like us into uncertainty as far as their survival is concerned in future," Md Ishaque, association president, said in a statement on June 15.
Ishaque said the announcement of duty imposition on newsprint has generated great deal of frustration among all concerned and urged the government to withdraw it immediately.
Entrepreneurs to get incentives
Industries Minister Dilip Barua said the government will give incentives and policy support to the private and individual entrepreneurs to help expand their industries in light of the budget.
He told this at a meeting on Tuesday after visiting Abul Bashar Foods and Beverage Industry at Ananda Bazar in Halishahar.
" Bangladesh badly needs more new industries to get rid of the unemployment," he said, adding that this year's budget has ushered in that hope.
Chittagong Press Club President Abu Sufian was present as special guest in the meeting presided over by MA Bashar Abu, chairman of the company. Former Principal of Haji Md Mohsin College Prof Fazlul Hoque also spoke.