Tigers return <i>sans</i> Ash
Captain avoids public wrath?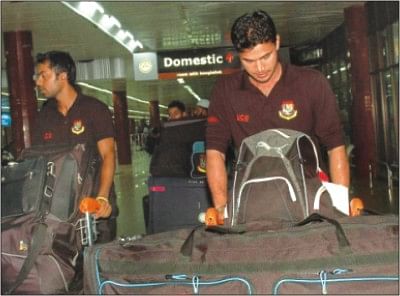 The lacklustre Bangladesh cricket team returned home silently on Wednesday following their first round exit from the ICC World Twenty20 without Mohammad Ashraful, the under-fire Tigers captain.
The performance of the Tigers in the second version of the showcase event broke the hearts of millions of fans and fingers have already been pointed to the unnerved skipper, Ashraful.
When all the wrath of the public is on the captain, it appears that he chose not to fly with his teammates to skip the heat: an uncourageous move indeed.
The job was then left to his deputy, Mashrafe Bin Mortaza, to face the media at the Zia International Airport.
Coach Jamie Siddons went to Australia to be with his girlfriend Kim, who is expected to give birth to their first child next week, while Ashraful and all-rounder Shakib Al Hasan stayed back in England for treatment.
Shakib has a prior appointment with a doctor, but it was learnt that Ashraful suddenly informed the team management after the shocking six-wicket defeat against Ireland that he needed to visit an eye specialist.
It was however not very hard for the Bangladesh skipper to get the permission to give the impression about how inept the cricket management is.
"Siddons and Shakib took the permission beforehand, but Ashraful requested the team management about his treatment only after the Ireland loss. Actually we grant this kind of leave on team management's recommendation during the tour," said BCB's acting CEO Nizam Uddin Chowdhury.
Bangladesh were the first team to reach England to acclimatise to the condition and interestingly they were the first team to return home as well, as they had to board the first available flight after their meek surrender to the spirited Irish.
"We failed to qualify for the second round for simple mistakes that we made against Ireland. And we understand that we disappointed our supporters and we apologise for that. Hopefully in future we will not repeat our mistakes and come out stronger and we will try to make up for the shock," Mashrafe responded.
Like his coach Mashrafe also said that poor batting was the main reason behind the disastrous performance.
"The batsmen failed to do their jobs. Our top-order collapsed against Ireland and the team never recovered from that early pressure," said Mashrafe adding that they did not take the Irish lightly.
The pace spearhead said that he had no idea about his coach's comments: "Our boys tend to do things their way a lot and they don't listen that well and it is time some pressure is put on them to listen, from the captain down."
The Tigers will now prepare for their next assignment to West Indies where they will play one Twenty20, three one-day internationals and two Tests in July.