In conversation
<i>Nadira Begum: Popularising and preserving bhawaiya songs</i>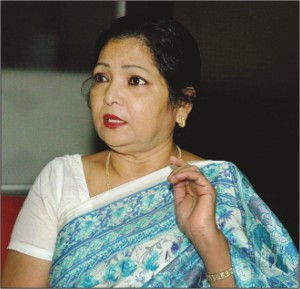 Though Nadira Begum is capable of performing the different genres of Bangla songs, the artiste has made a name for herself as a bhawaiya (a folk genre) singer. For years she has been enlisted as a 'Grade A' artiste in radio and TV. The current president of the Bhawaiya Academy, Nadira Begum is also working on a compilation of authentic bhawaiya songs. This year Bangladesh Shilpakala Academy has honoured the singer for her contribution to the folk genre.
Growing up in a musical environment, Nadira's first 'guru' was her father A.K.M. Abdul Aziz, a classical and folk singer on radio. According to Nadira, "I began taking music lessons from my father at an early age. Eventually I fastened nara (a traditional ceremony of becoming a disciple of a mentor) and started training under Ustad Nizamuddin Khan."
She received a gold medal for rendering a bhawaiya song when she was a school student. In Nadira's words, "I had to compete with college students. The song I rendered was Oki gao tulo, gao tulo, moishal bondhure."
Nadira also took extensive classical music lessons from renowned ustads including as Akhtar Sadmani, Narayan Chandra Boshak, Fazlul Haque and Umed Ali Khan. Receiving tutelage from Ustad Umed Ali Khan was one of the most exciting experiences of her life, according to Nadira.
The way it happened: "In 1970, I was selected as a member of the government delegation to perform at a cultural programme titled Nowroz in Afghanistan. I was the only participant from East Pakistan. The other members of the team were renowned singers and ustads including Umed Ali Khan, Mehdi Hassan, Kishwar Jahan and others. I rendered Dhiko dhiko dhiko moishal re and Allah Megh de pani de at the programme. The audience seemed to enjoy the bhawaiya, specifically the second one which is widely popular in Bangladesh. The following morning Ustad Umed Ali Khan, who was also the mentor of Mehdi Hassan, offered me his mentorship. I learnt a few thumris from him."
Nadira Begum was enlisted as a radio artiste back in 1960s. During the initial stage of her career she used to render all genres of songs including ghazal, geet, Nazrul sangeet and folk songs. However, after the Liberation War, she predominantly sang bhawaiya songs at radio and TV programmes. Why? Says the artiste, "I was told that there are several quality singers in other genres of music, but accomplished singers in the bhawaiya genre were few and far between. And the audience seemed to enjoy my rendition of bhawaiya songs.
"Initially I felt that labelling me as a "bhawaiya singer" was kind of a marginalisation. But, now, I have no qualms; I'm proud to be bhawaiya singer."
Nadira Begum and other researchers of the Bhawaiya Academy have been working on the genre for several years. Apart from the central office in Dhaka, the academy has seven branches in the north Bengal districts.
Commenting on the genre Nadira says, "Lives of the common people have been portrayed remarkably in bhawaiya. The genre has been evolved by the locals of North Bengal and some areas of India since the 12th century, though legendary singer Abbas Uddin popularised the genre among the urbanites. An interesting facet of the genre is that though most of the lyricists are men, the frequent theme in bhawaiya songs is the solitude of women."
The singer further adds that there is a difference between bhawaiya songs composed and written by the bards of Bangladesh and those of India.
On the hurdles of researching on and collection of bhawaiya songs, Nadira says, "Like it happens with most other oral traditions, maintaining the authenticity of lyrics and tunes of bhawaiya songs is challenging. Except a few educated ones like A.K.M. Abdul Aziz, lyricists and composers of bhawaiya songs are illiterate garoans, moishals and mahuts. One particular song can exist in several forms and it is difficult to trace the authenticity. After collecting the songs from the root level sources, we get them scrutinised by a panel of experts."
As a member of government delegate, Nadira Begum has rendered bhawaiya songs in countries including China, Japan, Australia, India, Pakistan, Afghanistan, Iran and Egypt.