Scenes from a graphic novel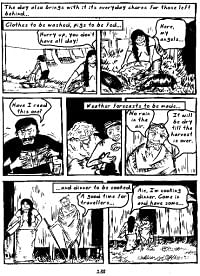 A graphic novel is a 'novel' in a comic book form. Its origins lie in the United States post-World War II era of the pulp novel and the newspaper comic strip, which in turn gave rise to comic books. Today that comic book form is no longer what most older generation figures will remember it to be. From the 1960s on it came under pressure for change came from the Japanese 'manga' comic books, the increasing popularity of science fiction books and 'underground' comic cults. Graphic novels are hugely popular in Europe, with some favourite 'characters', even though they are American creations, far more familiar to European readers. As that change in the comic book character became pronounced, it was simply a matter of time before it incorporated the novel's themes and linear devices, with lengthy and complex storylines bound in durable formats. Today graphic novels are hugely sophisticated in terms of themes and artwork qualities, with Art Spiegleman's work on the holocaust, titled Maus: A Survivor's Tale receiving a special Pulitzer prize in 1992. It is increasingly starting to gain acceptance among mainstream publishers and readers as something qualitatively different from being mere comic books. In this context John Updike's words, when in 1969 he addressed the Bristol Literary Society on "the death of the novel," are much quoted: "I see no intrinsic reason why a doubly talented artist might not arise and create a comic strip novel masterpiece." Last year a graphic novel on Che Guevara - 'Che: A Graphic Biography' by Spain Rodriguez, published by Last Gasp - appeared to much acclaim.
In India, the genre has started to take off in a modest way, with the way having been shown by Sarnath Banerjee's 2004 'Corridors', set in Delhi with characters such as Jehangir Rangoonwallah the Connaught Place bookseller, Brighu and Digital Dutta, all in a swirl of Delhi angst and 'Hakim Tartoosi's potency oil.' The book was grabbed up by Indian readers and quickly went into its second edition. Sarnath's next work, 'The Barn Owl's Wondrous Capers' has not done as well, proving more difficult to access with its post-colonial spin-off and post-modern exploration of babu-dom in 18th-century Calcutta, rife with "scandals and vicious rumours." In Bangladesh, too, the graphic novel has made its appearance - in Bengali, by The Daily Star's Sharier Khan titled Laily - to some enthusiastic acclaim from the younger crowd, who are far more attuned to this sort of publication.
Now Penguin India has published The Hotel At The End Of The Road by Parismita Singh. Her work has appeared in various publications including Time Out, the Sarai Reader and Katha Prize Stories 13. She was shortlisted for The Little Magazine New Writing award in 2006. The hotel of the volume's title has Pema, who dishes up rice and pork curry to travelers who stop by for a drink and refuge from the rains. One such day, on their journey to China, Kona and Kuja, bound together by fate, stumble upon the trail of the Floating Island, the promised land of plenty. The story is told from several perspectives: Pema's story is about lost love, while her husband speaks of homesick Japanese soldiers in Manipur and the Naga hills during World War II. The Prophet takes us back to the quest for the Floating Island, leading us to the little girl's story as she sets out to fetch water and chances upon something quite unexpected…
The book's blurb tells us that Parismita's work draws upon various oral storytelling and folklore traditions, with influences ranging from Commando war comics to World War II history and Buddhist art. Looking at the illustrations that much is clear and the tale is very much in the magical realism mode, something of a convention in graphic novel, where text and artwork combines to easily produce the desired effect, which is being re-created in Indian terms as Indians take up working in this genre. The blurb further goes on to mention that it marks "a new height" in graphic fiction writing in India. That, though, is for both graphic novel aficionados and general readers to decide.
Farhad Ahmed is a freelance contributor to The Daily Star literature page.