<i>Dreadful desperation</i>
Baby acid victim writhes at hospital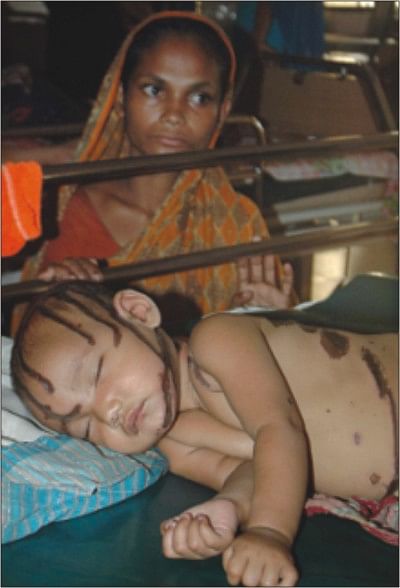 Failing to persuade her former husband to marry her again, Afsana Begum, 25, took revenge by throwing acid on his two minor children born to his second wife.
Of the two children, six-month-old Jonaki was shifted to the Burn and Plastic Surgery Unit of Dhaka Medical College and Hospital (DMCH) from Brahmanbaria Sadar Hospital yesterday with severe burns in her head, neck and the back.
Dr Samanta Lal Sen, project director of the burn unit, said the baby received 7 percent major burns and would have to undergo at least four operations.
Her brother, 18-month-old Arman, who received minor burns in lower abdomen, underwent treatment in the Sadar Hospital. He is now back home.
The acid attack took place at around 4:00 am on Saturday when both the children were in deep sleep at their house at Lalpur village in Ashuganj, Barhmanbaria, and their parents -- Mohammad Ali and Marjina -- went outside to answer the nature's call.
As the babies woke up screaming with pain, their parents rushed to the room only to see Afsana and her brother Ujjal running out of the room and the babies rolling in pain on the bed.
They also found that parts of their dresses and the bed were burnt. There was also a small bottle beside the bed.
The babies were soon rushed to Brahmanbaria Sadar Hospital. As the condition of Jotsna deteriorated, she was shifted to DMCH.
Hearing the screaming, the villagers also rushed to the scene and later went to Afsana's house nearby, but she denied having made the attack, Morjina said.
But Afsana and all her family members went into hiding several hours later.
Mohammad Ali, a blacksmith, married Afsana six years ago but divorced her two and a half years after their marriage following a conflict with his father-in-law. A son was also born to Afsana. The boy, Ramzan Ali, now five, lives with her.
For the last one year, Afsana has been forcing Ali to marry her again. As he refused her, she took revenge on him by throwing acid on Jotsna and Arman, Ali said.
Ali said he divorced Afsana as her father filed a false dowry case against him and he had to serve two months in jail.
Officer-in-Charge (OC) of Ashuganj Police Station of Brahmanbaria Abu Zafar said a case was filed against Afsana, her father and two brothers for throwing acid. Marjina, mother of the two victims, filed the case.
The OC also said that previous enmity led to the acid violence and they are yet to arrest the accused.