Amini sent to jail
Charged with bomb attack on May 1 rally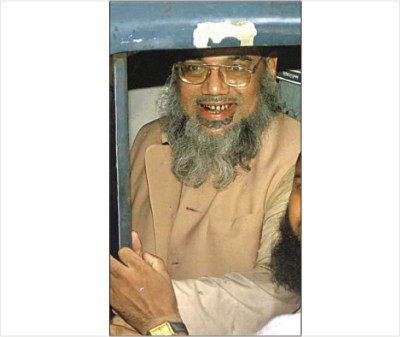 Mufti Fazlul Haq Amini, chairman of a faction of Islami Oikya Jote, was sent to jail after he surrendered before a Dhaka court yesterday in a case filed against him and nine others on charge of bomb attack on a Sramik League procession on May 1 this year.
Metropolitan Magistrate Tofail Hassan passed the order rejecting his bail prayer in the case when Amini along with his lawyers appeared before it.
Two other accused in the same case--Moulana Kamal Uddin Saleh and Moulana Hafez Badrul Islam--also were sent to jail yesterday on surrender.
Moving the bail petition, lawyers told the court that their clients were implicated in the case as part of a conspiracy to harass them. On the day of incident, the time of occurrence was shown at 7:00 pm when Muslim devotees were in mosques for their prayers. So, the charges brought against their clients were false, baseless and fabricated.
The prosecution opposed it saying that there were specific charges against the accused as the attacks left a score of people wounded. So, they should be sent to jail rejecting their bail prayer.
After hearing both the sides, the magistrate rejected their bails and ordered to send them to jail. Following the order, police took them to the jail on a prison van under tight security.
Sramik League leader Akbar Hossain filed the case against Amini and nine others.
According to the complaint, a group of miscreants led by Amini and nine others equipped with hockey sticks, shot guns and explosive substances attacked the procession of Sramik League near Bara Katara Hussainia Ashraful Ulum Madrasa in the city's Lalbagh area when they were returning from Paltan Maidan at about 7:00 pm on May 1.
They also hurled bombs at the processionists that left Mohammad Pappu, Imran Ahmed, Mohammad Russel and several others wounded. Some 20 to 22 pedestrians were also wounded during the incident, it said.
Meanwhile, BNP Secretary General Khandaker Delwar Hossain yesterday demanded unconditional release of Fazlul Haq Amini.