Giant Baghair caught in Jamuna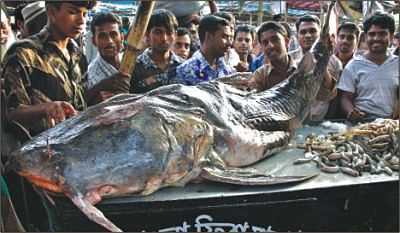 A rare-breed 105 kg Baghair (Bagarius bagarius) fish caught from the river Jamuna stole the spotlight as it was brought from Chilmari ghat in city's Merul Badda market yesterday.
"It is the largest Baghair sold in the city market in last 15 years. We bought it at Tk500 a kg and sold up to Tk800," said Haider Ali, the seller of the fish. Even the fish traders of the market wanted a share of this rare fish, he added.
"In rivers, fish usually grow three kilograms a year which suggests this one to be at least 30 years old," he said.
Fishermen of Ful Miah's boat netted the giant fish Sunday morning. Initially they could not lift the fish until it was tired. They said they kept the fish in water for five hours after bringing it to shore.
Baghair is an endangered fish. International Conservation Union of Nature (IUCN) listed the species in their red data book as precariously endangered.
Baghair is available in fresh waters of Bangladesh, India, Burma, Thailand, Cambodia, Vietnam, Sumatra, Borneo and Java. The fish feeds on shrimp, bloodworms, frog and other small fishes. It breeds prior to the rainy season.