Trial of war criminals to be transparent
Dipu Moni tells Moriarty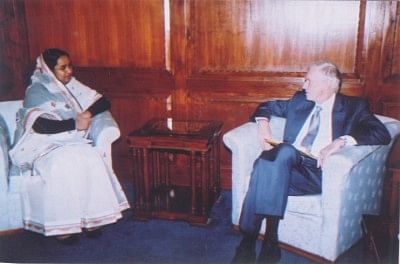 US Ambassador James F Moriarty called on Foreign Minister Dipu Moni at her office at the foreign ministry yesterday and discussed various bilateral and international issues.
At the meeting, the foreign minister said the trial of the war criminals would be held in a fair and transparent manner.
Trough the trial, which is a demand of time, a long-standing issue would be settled, she said.
Dipu Moni also said, "The present government is committed to upholding human rights and the situation has already improved significantly."
The government is trying to prevent extra-judicial killings and all agencies concerned have been directed to this end, she added.
Climate change issue, Rohingya refugee issue, migrant workers' issue and militant issue also came up for discussion.
After the meeting, the US ambassador told reporters that he has requested the foreign minister to recognise the independence of Kosovo.
He also said that Saudi Arabia, Malaysia and the United Arab Emirates have already recognised Kosovo.
At the meeting, Dipu Moni said the international community at the climate change conference in Norway last week expressed concern for the countries like Bangladesh.
She said the melting of glaciers in the Himalayas and the rise in the sea level has posed a threat to Bangladesh.
She pointed out the areas for which Bangladesh needs international assistance to offset the impacts of the climate change.