Lucky Akhand on Gaanalap tonight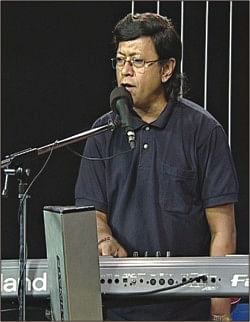 After a hiatus, celebrated singer-composer Lucky Akhand appears on TV with Banglavision's musical programme "Gaanalap."
Akhand's brilliance can be judged by his timeless compositions such as "Ei nil monihar," "Abar elo jey shondhya," and "Amaye deko na," which have found eager audiences among generations of music lovers. Born and raised in a culturally oriented family, Akhand composed several songs for other noted singers as well.
On "Gaanalap," Akhand will perform some of his classics as well as share several untold experiences.
"Gaanalap" will be aired tonight at 9:05pm. Produced by Nahid Ahmed Biplab, the programme is hosted by noted composer-singer Nakib Khan.