Trial of war criminals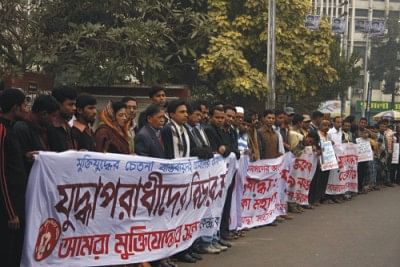 Reading Syed Mohammad Ali's letter entitled "Stories of war criminals" published (April 10, 2009) in The Star Magazine, I cannot but thank him for his observations that will help the authorities conduct the trial in an appropriate way. It is really unpleasant to think that the war criminals will not be punished for the crimes they committed. Without their trial, the sacrifice of martyrs, who laid down their lives for liberating people from slavery of Pakistan, will not be respected, even not upheld.
So it is a national demand. But I feel compelled to say that the government is driving everything through the political channels, even though they have done some admirable jobs.
Now, I also want to say that many freedom fighters are being called "Razakars" because of their involvement with the Jamaat -e- Islami and many Razakars are being called "freedom fighters" for their involvement with the Awami League. Nevertheless, people want to see the trial of war criminals.
I, therefore, hope the government will keep the liberation war above politics.