Women at the helm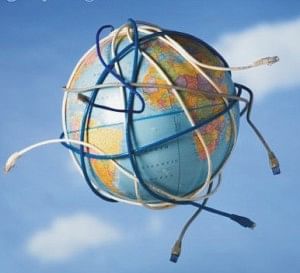 Women in the workplace were most-talked-about when PepsiCo named Indra Nooyi as the chief executive officer (CEO) to succeed Steve Reinemund, putting her among the leading women in corporate America. Indian-born Nooyi, who was ranked "No. 11" in Fortune's list of the most powerful women in business, joined the company in 1994 and was named chief financial officer (CFO) in 2001 and CEO in 2006.
Is it only Indra Nooyi who is a pride to many Indian women? I believe not.
Recent examples of many women professionals in Bangladesh may deserve equal respect and recognition. Greater educational and employment opportunities for women, influence of western media and particularly the growth of individualism combined with self confidence and earnest desire to win over adversities have brought the discussion of "women breaking the barriers" to the forefront. In our country as well, some women have had the courage and ability to lead an institution both home and abroad.
For a multinational bank operating in a country like Afghanistan, finding customers is one thing; finding bankers to serve them is something else. And for a woman it is even worse, especially when she sees some of her male colleagues in other banks or institutions resigning and going back to the home country. In a rigidly conservative Afghanistan, Nasreen Sattar, currently CEO of a foreign bank, has quite competently marked her presence while leading the bank. Quite apprehensive about how the Afghan men would react, she has broken barriers by successfully managing the bank's growth.
She has taken a bold step to take up this challenging position and proved her leadership in many aspects. The first Bangladeshi woman to take up a topmost position in a country like Afghanistan has truly made a difference in the society and can be cited as a role model for many. Nasreen and I worked together for more than 8 years and what made her different from the crowd is her commitment to continuous customer solutions building and respect for co-workers.
Today I am very proud that my former colleague, Humaira Azam has become CEO of IPDC of Bangladesh Ltd. Humaira made her way through hard work, commitment and talent. This lady proved that she can work at par even in the world of finance or hard core numbers, which was predominantly a male-dominated area in the past. Today she has reached the top because she was determined to be there. She overcame every barrier that came along in her journey. It was not because of her influential family background or favourable fate that helped her to become the CEO; she made it with her hunger for learning and fortitude, ability to look beyond the boxes.
A critical element in making it to the top is being in the pipeline to do so - here women hold only very few key line jobs that make up the pipeline in most corporations. Aside from being in the pipeline, women in our country also have to believe they can make it.
My own experience confirms that it is hard for women or for other minorities to believe they can progress if they cannot look up and see faces like their own at the top. When highly educated women perceive a dearth of viable options and leave the workforce, the pipeline narrows even further. This creates the possibility of a vicious cycle - a cycle in which a woman's desire to make it to the top is sapped by the very paucity of other women who have done so.
So how do women balance careers with their responsibilities as mothers and wives? Often it takes energy, patience, hard work and creativity. Millions of women around the world, however, somehow manage to do it all, often at the cost of their own personal time. Perhaps this is nothing to worry about, since it reflects choices made by women clearly in advantageous positions.
But the concern is over the best and brightest women, those future leaders, to leave - not just because it's not what PepsiCo CEO, Indra Nooyi, or Nasreen Sattar or Humaria Azam of a multinational bank has done or other successful women leaders in other parts of the world but because of the ever-increasing need for a highly skilled workforce. It is in everyone's interest to redouble our efforts to help women rise to the top and help close the leadership gap.
And why not? I have seen many of my junior female colleagues, newly married ones, expecting ones, and aged ones not leave their work until or unless they can finish it properly. Some of them went home after midnight, some of them stayed up the whole night, just to ensure last minutes details for a morning event and some of the expecting women worked until the last day of their delivery.
I personally feel, women always like to protect whatever she does. As a mother she protects her child, as a wife she takes care of her husband and similarly, as a professional she protects her work ethics, reputation and in turn, the organisation.
When I joined my present organisation, the gender balance was around 5 percent in favour of my 'she colleagues'. Today it has reached 20 percent, 3 of them occupying very important positions in the 8-member management committee.
I thought I should be very happy about this, until my boss questioned me - why not 50 percent?
A male colleague of mine whispered - "you don't even see 50 percent females in the university classes, besides the usual comments about ladies taking 4 months maternity leave, young ladies getting married and leaving the job and ladies' inability to stay late in the work. My boss came back pretty strong - "how many of your lady colleagues nag about higher pay, better work- life balance and inappropriately but regularly contribute in the office politics and thereby spend their energy in the undesirable way? Very few, or almost none, which is quite contrary to the opposite gender.
Given the right environment, women can continuously contribute to the "positive energy" in the work place by finishing their work more efficiently. We believe that the future of corporations lie in how best they can utilise their women force and create an atmosphere for them to excel.
None of us is as strong as all of us.
The writer is a banker and economic analyst. He can be reached at [email protected].